About Matsuno-taisha Shrine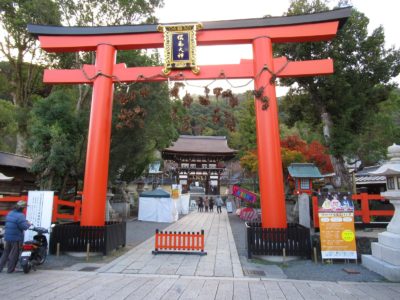 Matsuno-Taisha is the oldest shrine in Kyoto, and it is said that the inhabitants who lived in this region of the ancient times were enshrined in the Holy Spirit of the Mt.Matsuo and made it the guardian deity of their life.
It is said that the Hatano-imikitori which bestowed Emperor Monmu's Royal command in 701 year shrine and established the shrine. After that, the shrine was treated as a guardian god by Mr. Hata. After the Heian-Kyo capital, along with the East Kamo Shrine (Kamigamo shrine, Shimogamo Shrine), it is called that the "East strict god and the West fierce spirit". Since the Middle Ages, it has been believed as the god of sake, and it is still the devout shrine of the faith from the brewing house.
The grounds of the temple include a garden of water, a garden of Joko, and a garden of Horai. There are three gardens (at an extra charge) and you can see unique gardens. In addition, there is a spirit turtle waterfall in the seeing course. Near that, there is a spiritual spring called turtle well. The brewing house seems to use this water as the original water of sake and to mix it with water.
adsense2
Matsuno-taisha Shrine photos
▼Press any thumbnail, and you can see the photo gallery.
▼Tap any thumbnail, and you can see the photo gallery.
Photographer: Taisuke Yamada
Details
Location
〒616-0024 3, Arashiyamamiya-cho, Nishikyo-ku, Kyoto-shi, Kyoto

Telephone
TEL 075-871-5016
Entrance fee

Free admission for worship

Garden entrance fee
Adults 500 yen, students 400 yen, children 300 yen

Usual viewing season

Yamabuki
Mid-April – early May

Hydrangea
Late June – mid-July

Access

City bus
Short walk from Matsuo Taisha-mae stop on routes 28 and 29

Hankyu
Short walk from Matsuo Taisha Station

Parking lot
10 buses free of charge
Free for 100 private cars
Site URL
http://www.matsunoo.or.jp/
Recommended places to visit in conjunction with

Enshrined deity of Tsukiyomi Shrine is Tsukiyomi-no-mikoto. Tsukuyomi is known as the Amaterasu's fraternal deity in the myth of "Kojiki" and "Nihon-shoki."

From my house, I took the Kyoto municipal subway to Uzumasa Tenjingawa station, then I changed trains to Arashiyama railroad(common name:Randen) and arrived at Arashiyama station. It took long time. Arashiyama is very famous among foreigner tourist, and many of them are European people and Chinese people.

Daikaku Temple is Honzan of Shingonshu Daikakuji faction whose founder is Kobotaishi Kukai in Saga, Ukyo-Ku, Kyoto-City. Formally referred to as Kyusagagosho Daikakujimonzeki, it is also called the Saga Imperial Palace.