About Kyoto Daijingu Shrine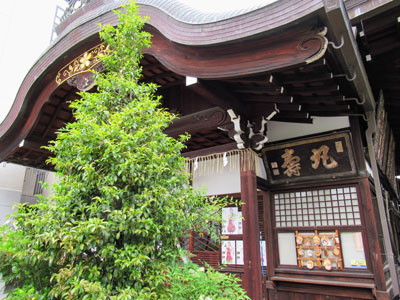 There was a request that along with facilities be established nationwide that people could worship Ise Jingu for the far, the distribution of Ise Jingu Taima be conducted for people who couldn't make visit to Ise Jingu which was frequently done from the end period of Edo era after welcoming the Meiji Restoration.
Kyoto Daijingu Shrine has its origin from Jingukyo Kyoto Church which was missionary institution of Ise Jingu at that time and was built as Jingukyo Saikai Kyoto regional headquarters.
When I visited there, there was no visitor in the precinct and its main shrine was in the state that even the towline could not be pulled as new coronavirus measure.
adsense2
Kyoto Daijingu Shrine photos
▼Press any thumbnail, and you can see the photo gallery.
▼Tap any thumbnail, and you can see the photo gallery.
Photographer: Taisuke Yamada
Details
Location
〒600-8031
622, Sadayasu-mae-no-cho, Teramachi-Dori Shijo-Kudaru, Shimogyo-ku, Kyoto City, Kyoto Prefecture

Telephone
TEL:075-351-0221
Entrance fee
free
Access
Access : Shijo Kawaramachi Station
From Shijo Kawaramachi intersection (Hankyu Kawaramachi Station, etc.), approx. 80m west, 80m south of Shijo Teramachi intersection (Fujii Daimaru), at Teramachi Ayakoji intersection. Across from EDION.
Parking lot
none
Site URL
http://kyotodaijingu.jp/
Recommended places to visit in conjunction with

Known affectionately as "Nishiki no Tenjin-san" by the locals, Nishiki Tenmangu Shrine is dedicated to Sugawara Michizane, known as the god of learning, as its main deity.

Honnoji is a temple of Nichiren Buddhism, southwest of Kawaramachi Oike in Nakagyo ward, Kyoto. This temple is very famous in Honnoji incident that Mitsuhide Akechi avenge Nobunaga Oda.

Hanamikoji street is one of the streets leading to the North and south of Kyoto city. The south side of the Shijo street is lined with a venerable Ochaya-san and restaurant.