About Kenninji Temple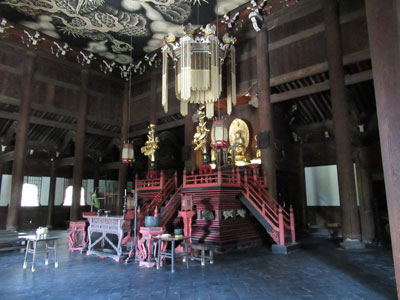 Kenninji Temple is the main temple of a Rinzai sect Kenninji school. The person who built this temple is Eisai Zen Master. The person who made its base is Yoriie Minamoto. It was opened in 1202 (Kennin 2 in Kamakura era) and its name was named after the name of an era at that time.
There is the famous Wind God Raijin Folding Screen displayed in the main hall. Although a digital duplicate is displayed now, the folding screen has great impact. If you could decorate such a thing in your home, you might feel like you become rich.
In addition, there are fusuma paintings having drawn each place and it was a place like art museums of "wa".
Furthermore, there were dry garden and Japanese garden of moss and many worshippers were relaxing watching the garden.
We go forward Hatto in another annex after replacing to slippers. There is a beautiful golden Buddha statue in Hatto, and there is a big Saangyong figure having drawn in ink painting in the ceiling, which overwhelms its viewers.
Kenninji Temple has a great number of points to view and was the place where people for sightseeing enjoy too.
adsense2
Kenninji Temple photos
▼Press any thumbnail, and you can see the photo gallery.
▼Tap any thumbnail, and you can see the photo gallery.
Photographer: Taisuke Yamada
Detail
Location
〒605-0811
584, Komatsu-cho, Yamato-oji-dori Shijo Kudaru, Higashiyama-ku, Kyoto-shi, Kyoto

Telephone
TEL:075-561-0190
Entrance fee
Adults 600 yen, Junior and senior high school students 300 yen, Elementary school students 200 yen *Free for children under elementary school age
Access
7 min. walk from Gion-Shijo Sta. on Keihan Railway.
10 minutes on foot from Kawaramachi Station on the Hankyu Line.
From JR Kyoto Station: City Bus No. 206/100
5 min. walk from "Higashiyama Yasui" bus stop.
7 min. walk from " Minamiza-mae" city bus stop.
10 minutes walk from "Gion" or "Kiyomizu-michi" city bus stop.
Parking lot
Parking near the north gate (250 yen for 30 minutes)
※Free bicycle parking space available
Site URL
https://www.kenninji.jp/
Recommended places to visit in conjunction with

Yasaka Shrine is a shrine in Gion-machi, Higashiyama-ku, Kyoto, and is said to have been erected in 656, and is also known as the Yamabokojunko endpoint of Gion festival.

Kodai Temple is a temple of the Rinzai Kenninji sect in Higashiyama-ku, Kyoto, and Hideyoshi Toyotomi's wife Kitanomandokoro (Nene) erected this temple to pray for the souls of Hideyoshi.

Kiyomizu-dera Temple is a temple with an old history from the time when the capital moved to Heian Kyo, just like Koryu temple and Kurama temple, Kyoto is also a famous tourist destination, alongside the temple of Kinkakuji and Arashiyama.