About Kajuji Temple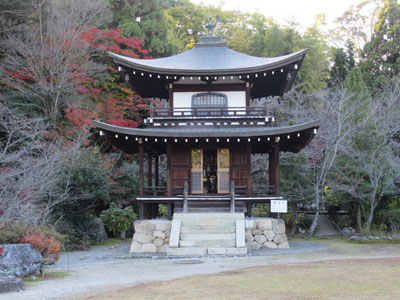 It is said that Kaju-ji Temple was built on the site of the residence of Yamasu Miyaji, the ruler of Uji County in Shotai 3 (900).
The garden is comprised of two parts: one is pond garden with Himuro pond which is said from Heian era its center and a flat garden spreading out to the south of the shoin, which is said to have been built in 1686 as a gift from Gosei-in's former palace.
Himuro pond used to extend further to the south, but was filled in during Hideyoshi's construction of Fushimi Castle to build a new road, thus reaching its present size. It was a pity that we did not go all the way around the pond.
In "Jyui Miyako Meisho Zue (Illustrated Guide to Famous Places in the Capital)" published in 1786, "Himuro-ike Jugo Sho (Fifteen Places to Visit in Himuro-ike)", in other words, 15 places of interest are described. The "Suibi no Taki" of those days is now a dried-up waterfall, and the number of Nakajima has decreased, but new attractions have been created, such as the construction of a new Kannon-do hall in 1935.
The "Shugyodaishi Sonzou" looks like a statue of a pilgrim, and is accompanied by a picture of the 88 pilgrimage sites on Shikoku.
adsense2
Kajuji Temple photos
▼Press any thumbnail, and you can see the photo gallery.
▼Tap any thumbnail, and you can see the photo gallery.
Photographer: Taisuke Yamada
Details
Location
〒607-8226 27-6, Kanshuji Nioido-cho, Yamashina-ku, Kyoto-shi, Kyoto

Telephone
TEL:075-571-0048
Entrance fee
400 yen
Access
5-minute walk from Ono Station on the Subway Tozai Line
Short walk from "Kanshuji" bus stop by Keihan Bus
Parking lot
Free parking available
Site URL
https://ja.wikipedia.org/wiki/勧修寺
Recommended places to visit in conjunction with

Zuishinin is known as a temple related to Onono Komachi, and there is a stone monument of Onono Komachi in the grounds, and there is a plum garden called Ono Plum Garden in the precinct.

Daigoji is a temple of the Shingon Daigo head in Daigo, Fushimi-ku, Kyoto City. The principal of the temple is the Yakushi Buddha, and the founder is Rigentaishi Shobo. It is registered as a cultural property of the old Town Kyoto as a World heritage site.

The Bishamon temple in Yamashina ward, Kyoto City is a temple of Tendai sect. Bishamondo is one of Tendai sect Kyoto five gate traces and is also called Bishamondomonzeki. The Izumo Temple of Bishamondo's predecessor is said that Gyoki founded in 703.