About Jissoin Temple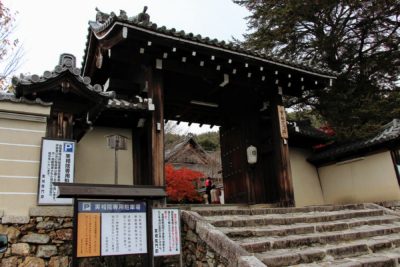 Jissoin is a Buddhist temple in Iwakura, Sakyo-ku, Kyoto, the founder is Joki, and the principal image is Acala. Jissoin is a small temple, but there are two Japanese-style gardens in the precincts. One of them is between Shoin and precinct in the Sansui garden. One of them is between Shoin and Kyakuden in the Sansui garden. Another garden is the majestic rock gardens with views of Mt. Hiei.
In addition, "floor maple" and "floor midori" are worth a look because the outside trees are reflected in the floor of the room called the waterfall room. (Photography is prohibited.) Jissoin is known as its famous viewing maple leaves spot in northern Kyoto city.
Apart from the photos listed here, it was a place where there was a tightened atmosphere unique to temples such as a magnificent Buddha statue.
adsense2
Jissoin Temple photos
▼Press any thumbnail, and you can see the photo gallery.
▼Tap any thumbnail, and you can see the photo gallery.
Photographer: Taisuke Yamada
Details
Location
〒606-0017
121 Iwakura Agura-cho, Sakyo-ku, Kyoto-shi, Kyoto

Telephone
TEL 075-781-5464
FAX 075-781-5464
Entrance fee
High school students and older: 500 yen, elementary and junior high school students: 250 yen, preschool children: free
Usual viewing season
Red leaves
Early November – Early December
Access

Kyoto bus
Take routes 21, 23, or 24 and get off at "Iwakura Jissoin" bus stop.

Keihan
20 minute walk from Iwakura Station on the Eizan Electric Railway Kurama Line

Parking lot
Sightseeing bus, reservation required
Free parking
※No personal car during fall season
Site URL
http://www.jissoin.com/
Recommended places to visit in conjunction with

It is this big Kurama tengu to greet us when getting off the Eiden Kurama station. Niomon that is the entrance of Kurama Temple exist in the place that climbing a little from here on road, from there it become a course of a little mountain climbing and hiking.

Kifune shrine is a shrine that has been praying for the god of rain for a long while, and is gathering faith from people in the business of dealing with cooking and water all over the country as God of water.

The Takagaike Park is located at near the International Hall of the Municipal subway station and a 15-minute walk to the south. There is a small parking lot, so it is convenient to stop by on the drive.