About Horinji Temple "Darumadera"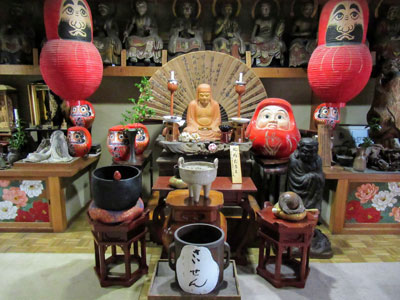 Horinji Temple is located Kamiya riverside which is related to Kitano Tenjin in Rakuyo Enmachi. It is a famous temple of Rinzai sect Myoshinji school and it is familiarized with its name so called "Darumadera".
The tenth Buddhist priest Iyama who inaugurated in 1933 in this temple inspired getting up Bodhidharma Zen from early time and tried to popularize and make Zen a living, with a good writing and a long tongue and with getting up daruma dolls. And he built getting up daruma hall and opened Shorinji Kempo Dojo including Daruma Setsubun Kai. Because of this, the name of Daruma Temple (Horinji Temple) is prevalent highly in Rakuyo and also in whole Japan.
Its precinct has the buildings such as getting up Daruma hall, the shrine that shines in vermilion, the main hall that live-eyed Daruma-type Onigawara towers over the heavens.
As you can see from its name, a great number of Daruma are displayed in Daruma hall and Shrine. Since there are darumas with a variety of facial expressions, you wouldn't fed up with.
There is Eireiden on the second floor in Shrine and we are a little surprised at many mortuary tablet of the war dead in South Pacific.
adsense2
Horinji Temple photos
▼Press any thumbnail, and you can see the photo gallery.
▼Tap any thumbnail, and you can see the photo gallery.
Photographer: Taisuke Yamada
Details
Location
〒602-8366
457 Yukue-cho, Nishi-iru, Shimotachiuri-dori-Tenjin-michi, Kamigyo-ku, Kyoto-City, Kyoto Prefecture

Telephone
TEL:075-841-7878
Entrance fee
300 yen
Access
Hankyu Line Saiin alighting 15 min. walk
JR Sanin Line Enmachi alighting 5 minutes walk
City Bus Nishinokyo Enmachi alighting, 5 min. walk
Parking lot
Yes (free for worshipers)
Site URL
None
Recommended places to visit in conjunction with

Kitano Tenmangu Shrine is located in Kamigyo-ku, Kyoto-city, and also known as Tenjin-san and Kitano-san. Kitano Tenmangu is a shrine dedicated to the famous Michizane Sugawara as the god of learning, and now collects the faith of many students.

Located in Kamigyo-ku, Kyoto City, Myokenji Temple, also known as Gusoku-zan Myokenji Temple, was founded in the late Kamakura period (1185-1333) and was the first Nichiren-shu temple in Kyoto.

Hirano Shrine is a shrine built by the emperor Kanmu to coincide with the capital has moved to Heian-Kyo in 794. This is a famous shrine as a cherry blossom attraction, About 50 species and 400 cherry blossoms have been planted, and there are many stalls and cherry blossom visitors at the time of Hanami.