About Hachidai Shrine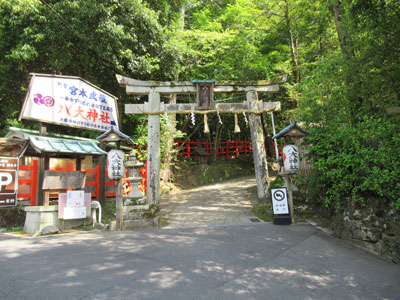 Hachidai Shrine is a shrine that is located in Kyoto City Sakyo district Ichijoji Matsubara town and its former shrine ranking is village shrine. Its Saijins are Susanoono Mikoto, Inadahimeno Mikoto, Hachiojino Mikoto.
There is an anecdote left that in the early stage of Edo era, Musashi Miyamoto who made duel with several tens people from Yoshioka clan at Ichijoji Kudarimatsu, thought to ask the god for its benefits before the duel but he stopped just before doing so realizing his weaknesses.
Inside the shrine, the old tree of Ichijoji Kudarimatsu is stored for display. By the way, the description of the origin of the displayed old tree is as follows.
"This old tree is a part of pine tree at that time when the master swordsman Musashi Miyamoto made a duel with Yoshimoto clan."
The precincts of Hachidai Shrine located at the foot of the mountain is cool during the very hot days in summer and I could see worshippers who were sitting on a shaded bench and making them cool.
adsense2
Hachidai Shrine photos
▼Press any thumbnail, and you can see the photo gallery.
▼Tap any thumbnail, and you can see the photo gallery.
Photographer: Taisuke Yamada
adsense2
Details
Location
〒606-8156
1 Ichijyoji Matsubara-cho, Sakyo-ku, Kyoto-shi, Kyoto

Telephone
TEL 075-781-9076
Entrance fee
Free
Access
Get off at Ichijyoji Station on the Eizan Electric Railway and walk 10 minutes.
Take city bus No.5, No.8 North, or Kyoto Bus, get off at "Ichijoji Kudarimatsu-cho" and walk 7 minutes.
Parking lot
Free parking is available on the grounds.
※Other paid parking available
Site URL
https://www.hatidai-jinja.com/
Recommended places to visit in conjunction with

Shisendo which is located in Kyoto City Sakyo district Ichijoji is a ruin of a mountain cottage where Jozan Ishikawa who was the cultural person in Edo era spent his last days.

Enkoji temple is a temple of Rinzai sect Nanzenji school. Its mountain title is Zuigan-mountain. Its principal image is Senju Kannon.

Sagimori Shrine is a shrine located in Kyoto city Sakyo district Shugakuin Miyanowaki-cho. Its God is Suda Emperor.