About Enkoji Temple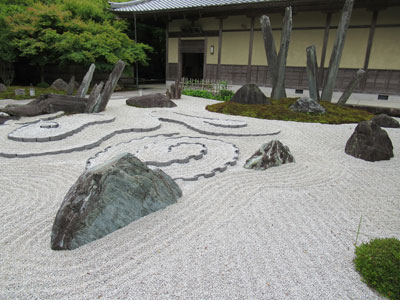 Enkoji temple is a temple of Rinzai sect Nanzenji school. Its mountain title is Zuigan-mountain. Its principal image is Senju Kannon.
In 1601 (Keicho 6) Ieyasu Tokugawa invited zen master Genkitsu Sanyo, the ninth Scholarch of Shimono Ashikaga school, built Enkoji temple in Fushimi and made it a school in order to develop the national education and learning.
After that, Enkoji temple moved to inside Shokokuji mountain and further relocated to current Ichijoji Kotani town in 1667 (Kanbun 7)
Enkoji temple has dry garden (Honryutei) and the garden of Jugyu that has beautiful moss, autumn leaves and laid autumn leaves. It exudes the tranquility of Rakuhoku along with Seiryu pond which is said to be the oldest pond in Rakuhoku and Suikinkutsu with a clear tone.
adsense2
Enkoji temple photos
▼Press any thumbnail, and you can see the photo gallery.
▼Tap any thumbnail, and you can see the photo gallery.
Photographer: Taisuke Yamada
adsense2
Details
Location
〒606-8147
13 Kotani-cho, Ichijyoji, Sakyo-ku, Kyoto-shi, Kyoto

Telephone
TEL 075-781-8025
Entrance fee
Adult ¥500
High school and junior high school students ¥400
elementary school student ¥300
Access
10 min. walk from Ichijoji Kudarimatsu bus stop on City Bus No. 5.
Eizan Electric Railway / Eizan Line Ichijoji alighting, 15 minutes walk.
Parking lot
Parking lot (30 cars)
Recommended places to visit in conjunction with

Hachidai Shrine is a shrine that is located in Kyoto City Sakyo district Ichijoji Matsubara town and its former shrine ranking is village shrine. Its Saijins are Susanoono Mikoto, Inadahimeno Mikoto, Hachiojino Mikoto.

Shisendo which is located in Kyoto City Sakyo district Ichijoji is a ruin of a mountain cottage where Jozan Ishikawa who was the cultural person in Edo era spent his last days.

Sagimori Shrine is a shrine located in Kyoto city Sakyo district Shugakuin Miyanowaki-cho. Its God is Suda Emperor.