About Goo Shrine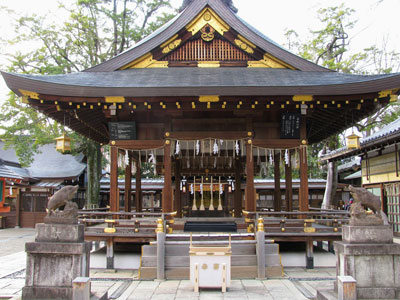 Goo Shrine is a shrine on the West side of the Kyoto Imperial Palace, and it enshrined the Wakenokiyomaroko contributed to the founding of Heian-Kyo.
Wake-no-Kiyomaro was attacked by a thug sent from the Yuge cholangioscopy the influential person at the time, from the legend that it was saved by the 300 boars which appeared suddenly, "Koma wild boar" is put on behalf of Komainu from the Meiji 23 (1890 years). Goo shrine is known as "Boar Shrine", and worshippers of the year of the boar tend to increase more than usual. A lot of was named figurines and small items are installed in the precincts besides the Koma wild boar.
The main divine virtues are "legs health and Illness injury recovery", "protecting against misfortune and calamity", "guardian of the Year of the boar", "child rearing, the protection of children's growth", and "asthma sealed". Therefore, there are many visitors from all over the country who are suffering from legs's troubles, and athlete (athletics, soccer, etc.).
The 10-yen bill used in the year 1899 to 1939 Wake-no-Kiyomaro and Goo Shrine was drawn, and the wild boar was drawn on the back, so the 10-yen bill that Wake-no-Kiyomaro's portrait was drawn was called "boar" for long time.
Because my previous workplace was close from here, I often visited it for a walk. The site is small, but it is a beautiful shrine with good taste overall. The surrounding area is a scenic area of Kyoto Imperial Palace West, and foreign tourists are often seen.
adsense2
Goo Shrine photos
▼Press any thumbnail, and you can see the photo gallery.
▼Tap any thumbnail, and you can see the photo gallery.
Photographer: Taisuke Yamada
Details
Location
〒602-8011
385 Sakurazuruen-cho, Karasuma-dori-Shimochojamachi-sagaru, Kamigyo-ku, Kyoto-shi, Kyoto (in front of Kyoto Gosho clam gate)

Telephone
TEL 075-441-5458(9:00~17:00)
FAX 075-414-0255
Entrance fee
Free
Access

City bus
Short walk from "Karasuma Shimochojamachi" bus stop on the 51 line

Subway
Get off at Marutamachi Station on the Karasuma Line and walk north for 7 minutes.

Car
On the left before the third traffic light north from the Karasuma-Marutamachi intersection.

Parking lot
Parking is available on the grounds.
Site URL
http://www.gooujinja.or.jp/
Recommended places to visit in conjunction with

The Kyoto Imperial Palace is called "Gosho" by the neighboring residents and is popular. From the 14th century to the early Meiji period, this is the place where successive emperors lived, priest rituals and public service.

Shimogoryo shrine was erected together with Kamigoryo shrine during the Heian period. It is revered as a shrine to protect the imperial court and the capital by fleeing the plague disaster.