Gourmet Report
I went to eat some strange mackerel ramen on this day. When I first heard that mackerel ramen, I had imagined whether the boiled food of the mackerel on top of ramen noodles, but it seems that shavings from dried and smoked mackerel is riding. (I was relieved. )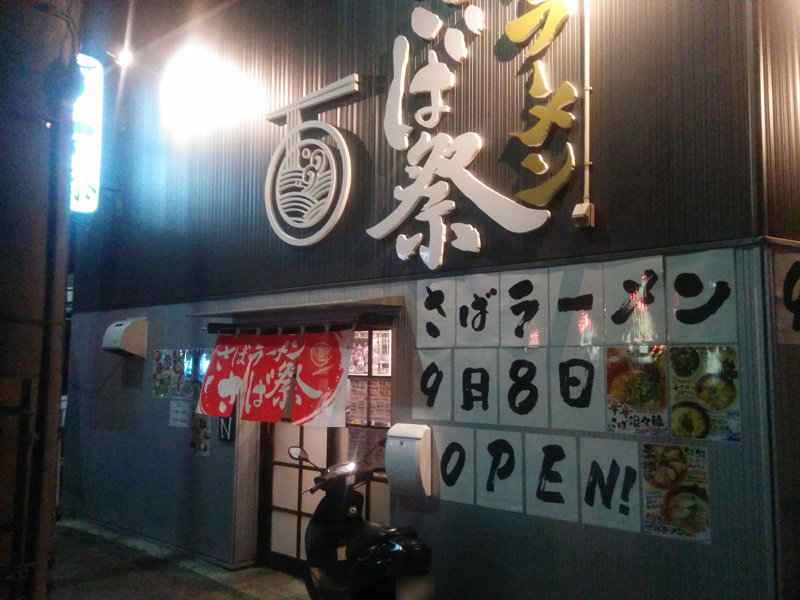 It seems to have been built on the place of "Kawato shop" that Kozo Kawato who was a baseball player of Hanshin Tigers was doing the ramen shop before. It is in a prominent place from Shirakawa Street, but it is a little hard to commute that there is only one motorcycle parking space.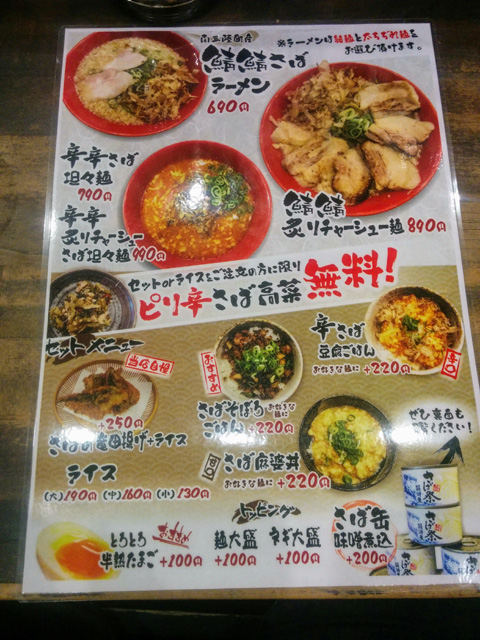 There are about twelve counter seats in the restaurant. All the guests were male customers. The restaurant is beautiful because it is new shop. This time I ordered mackerel ramen (690 yen) and rice (160 yen) from the menu. The noodles were like thick curled noodles and thin noodles, so I asked to the clerk, "which is more delicious?". I bumped the question of fastball, but He was puzzled, then he replied that "I recommend the thick curled noodles.". So that I tried to order a thick curled noodles.
adsense2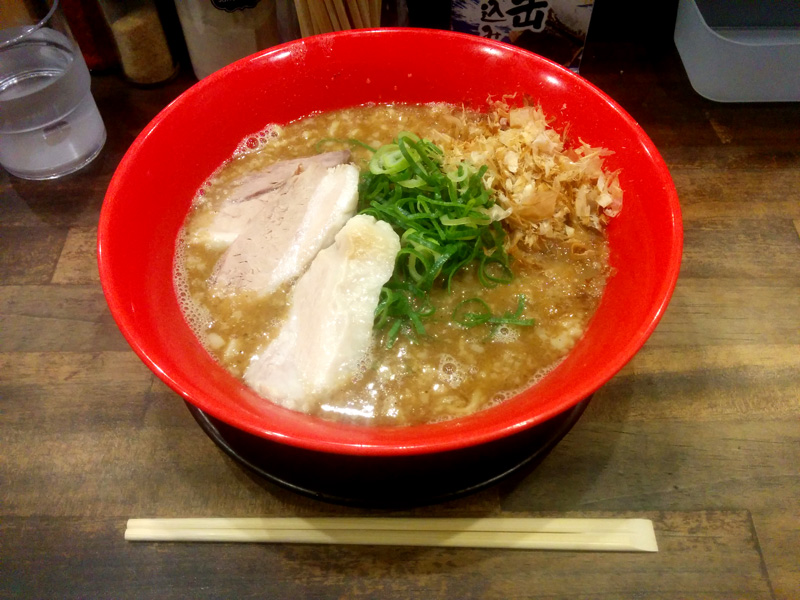 I waited for a while and carried it. Saba Saba Saba ramen(Saba means a mackerel)!
There are a lot of bonito of the mackerel on the thick soup. The roast pork has three thick slices. The rest is leek. There was a garlic and cayenne pepper powder on the counter, so I sprinkle those powders, then I started to eat it.
First, the roast pork. Lean meat is a light taste, and the fatty meat is soft and is delicious by the texture which collapses in the mouth. There seems to be no need to dare to ask for the roasted pork noodles because there is a considerable amount.
The taste of the soup, for example, was mixed with pork bone soup in a seafood soup reminiscent of the ramen soup of Sugakiya, and it was a very thick taste that pig's back fat was riding there. It was a nod feeling that the clerk was recommended the thick curled noodle in this soup.
The service of white rice is good, and "spicy spicy mackerel Takana" has been attached.
A thick soup, roast pork and "spicy spicy mackerel takana", white rice are eaten deliciously with them. I was quite satisfying. Next time I'll try to challenge the fine noodles. Thank you for delicious meal!
Author's score・・・94points!!
Details
Shop name
Saba Ramen Saba Matsuri
Location
〒606-8404
31, Jodoji-Shimominamida-cho, Sakyo-ku, Kyoto-shi, Kyoto

Access
City bus
Take routes 5, 17, 32, 93, 203, 204, Express 100, or Express 102, get off at Kinrin Shako-mae bus stop, and walk 2 minutes.
Business Hours
11:30~14:30
17:30~21:30
Regular Holyday
Every Tuesday
Site URL
https://saba-matsuri.com/