Gourmet report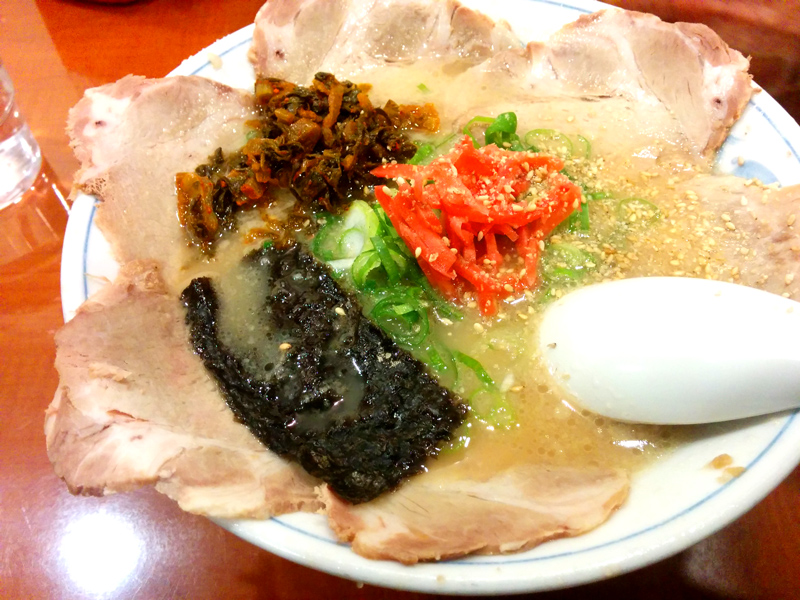 adsense2
"Hakatakko" in Sakyo-ku, Shimogamo. The Pig Bone Ramen shop continues from the predecessor. It might have been unpopular with the smell peculiar to the pig bone in old times, but the pork bone does not have the smell of the pork bones in the bottom processing now.
The pork bone ramen of this shop is an orthodox Hakata ramen and is anyway delicious. Roast pork is on top of the ramen and has three in-one. Besides the normal noodles, I am glad to be able to choose the thin noodles which I cannot eat easily in Kyoto. You can choose the thickness of pork bone extract from Kyushu ramen and rich soup. The ramen of this shop is Hakata ramen, and Takana, ginger, and sesame are freely put on ramen. There is also vegetable ramen with soy sauce soup. The fried rice on the side menu is also delicious.
However, I feel the price is a little high unfortunately overall.
There are four parking spaces on the north side of the shop. In addition to a row of counter seats in the shop, there are two seats in the table, it is also suitable for the family to come to eat ramen. Note that the unique system that you can order extra ball of noodles of Hakata ramen is limited to counter seats.
Because I can assure the taste of ramen of this shop, if you like pork bone ramen, why not come and visit once.
Thick delicious ramen ¥700
An extra ball of noodles ¥150
Author's score・・・88points!!
Details
Shop name
Kyushu Ramen Hakatakko
Location
〒606-0816
2-19, Matsunoki-cho, Shimogamo, Sakyo-ku, Kyoto-shi, Kyoto

Access
・Parking lot and bicycle parking available
・Just after getting off at "Ipponmatsu" stop of city bus
Business Hours
11:30~14:00
18:00~22:00
Regular Holyday
Mondays and the first Tuesday of the month (open if Monday is a national holiday, closed the following Tuesday in that case)
Facebook
https://www.facebook.com/JiuZhouramenBoDuotsuZi/