Gourmet report
Hakata Nagahama Ramen Miyoshi is located in Kiyamachi Town Street, which is the best bar street in Kyoto. The pig bone ramen of Miyoshi is my pattern in the end after drinking sake in Kiyamachi town.
Shop exterior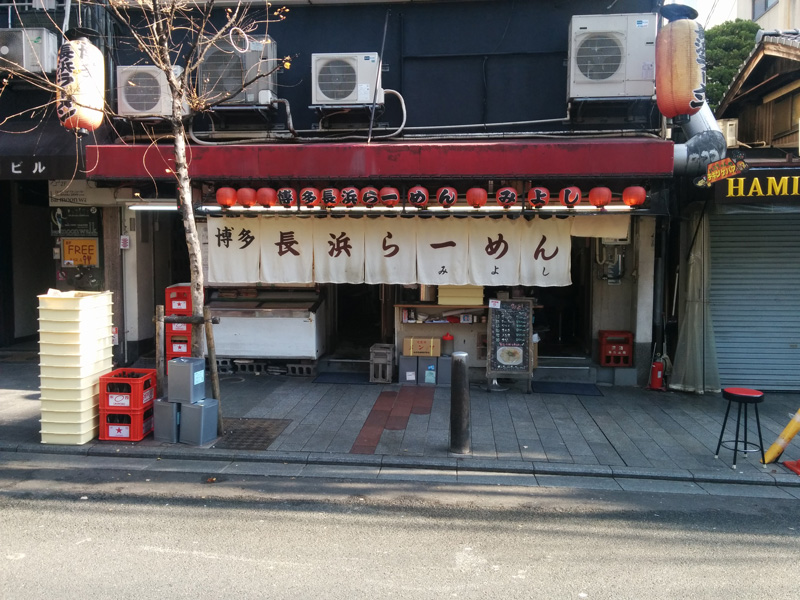 Menu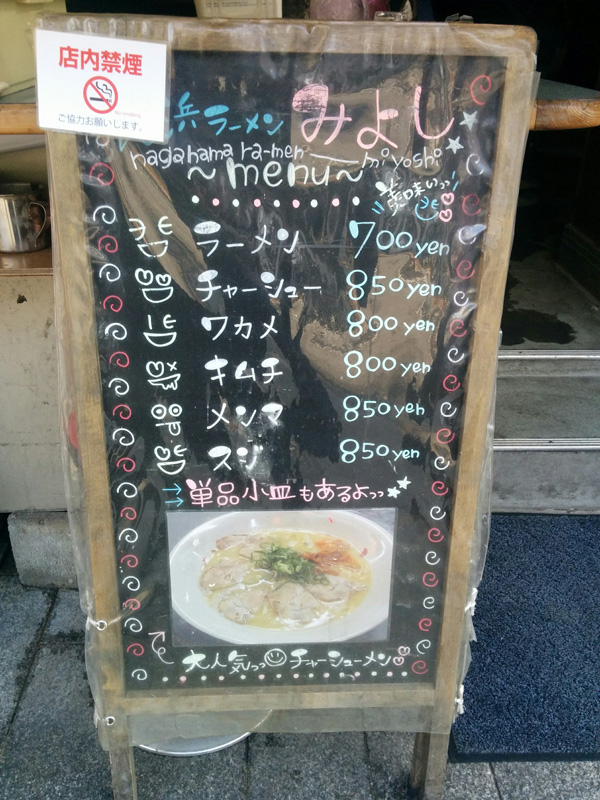 The appearance of the shop, as you see, is not clean, but it is said that a delicious ramen shop is thumbed and damaged, so this shop has a great expectation. (I've been to this store many times, so I already know.)
There are seven to eight counter seats in the restaurant. There is an underground room, and there is a memory that there was a seat there, too. For the time being, I ordered the regular ramen (¥700). The interesting thing about this shop is that there are a lot of ingredients topping the pork bone ramen. (free) I tried to sprinkle with red ginger and pepper and tempura scraps and sesame. It looks delicious, doesn't it?
adsense2
Ramen is a pork bone soup that looks like an orthodox Hakata Nagahama ramen, and has a very thin noodle. There are two small roasted pork. It is not a lot of ramen, but the combination of a little sweet pork bone soup and fine noodle is really delicious. I ordered an extra ball of noodles (¥150) because the noodles were not enough in one ball. The soup was originally a lot, so it was okay for an extra ball of noodles. Because the amount of an extra ball of noodles was abundant, I became full.
As an aside, there is a discount (ramen + rice ¥650) at lunch time of Mon-Sat (excluding national holidays), so there is also the time to go to the target.
Author's score・・・90points!!
Details
Shop name
Hakata Nagahama Ramen Miyoshi
location
〒604-8002
Tsujita Building 1F, 115 Ishiya-cho, Nakagyo-ku, Kyoto-shi, Kyoto

Access
・150m walk west from Exit 1 of Sanjo Station, Keihan
・150m on foot to the west from Sanjo Keihan Station on the Subway Tozai Line
・Sanjo kiyamachi kudaru
・No parking (coin parking available nearby)
Business Hours
11:00~6:00 the next morning
Regular Holyday
None