Gourmet report
I've been interested in the Ramen-ya Akihide. The restaurant doesn't open everyday. The owner will tweet the business days. From a couple days ago, I've been following their twitter account, and I got the tweet that said they are open today. Even though it was raining, I went to the Akihide located in Ichio-ji area.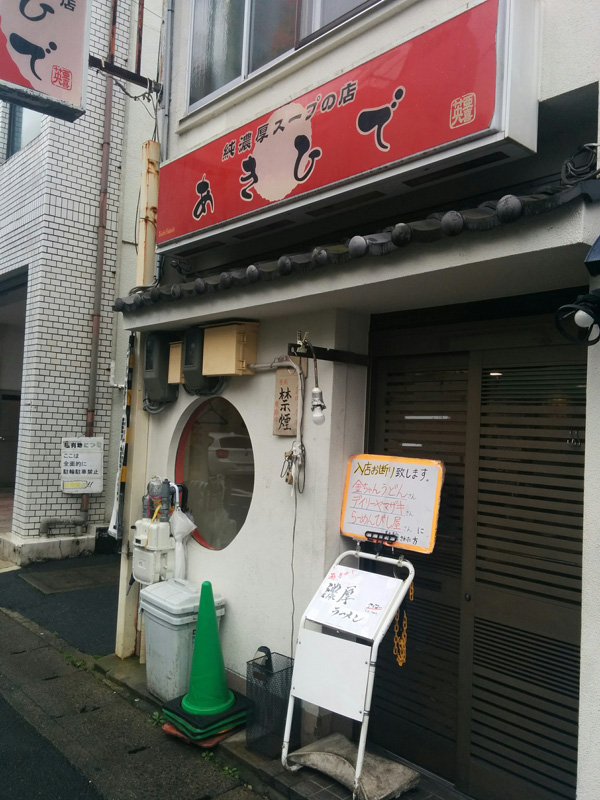 As you see in the picture, the restaurant is so small. They have only counter seats. I got a seat as soon as I arrived there. I wondered that there were not many customers today because of the rain.
adsense2
I ordered the rich soup ramen (¥750) and medium rice (¥100). The lady told me that the medium rice is quite a lot, but I wanted eat good so I ordered the medium rice. The small rice is just a bowlful of rice and it's ¥50. SO CHEAP!!
When the ramen come, it remind me the Kotteri ramen from somewhere. I'm so impressed that they made even the noodle and the soup similar to the other Kotteri ramen restaurant. I enjoyed the ramen because I love the Kotteri ramen.
There were two roasted pork, it's not a fillet, it's a chunk. It was so soft and delicious, and it goes really good with the Kotteri soup. I didn't know how to eat the huge seaweed Nori.
I couldn't eat the all rice, but it was such a delicious ramen as heard in the rumor. I recommend the Akihide if you love the Kotteri ramen and large roasted pork. You should jump in the shop, if you see them open while you are walking around the Ichijo-ji area.
Author's score・・・95points!!
Details
Shop name
Ramen-ya Akihide
Location
〒606-8114
5-2 Ichijyoji Kita-Daimaru-cho, Sakyo-ku, Kyoto-shi, Kyoto

Access
・Approx. 4 minutes on foot from Ichijyoji Station on the Eizan Electric Railway
・No parking or bicycle parking space
Business Hours
Basically closed. Information will be posted on Twitter only on the days the restaurant is open.
Regular Holyday
Unscheduled (Basically closed)
Twitter
https://twitter.com/eigyoakihide