Gourmet report
I revisited the Ichijoji Takayasu. I came to the store a little early because the guests were always lining up in front of this shop. I entered the store about 11:40. Fortunately, there was no procession in front of the shop yet. There were seventeen counter-seats and three tables in the shop. The room was bright.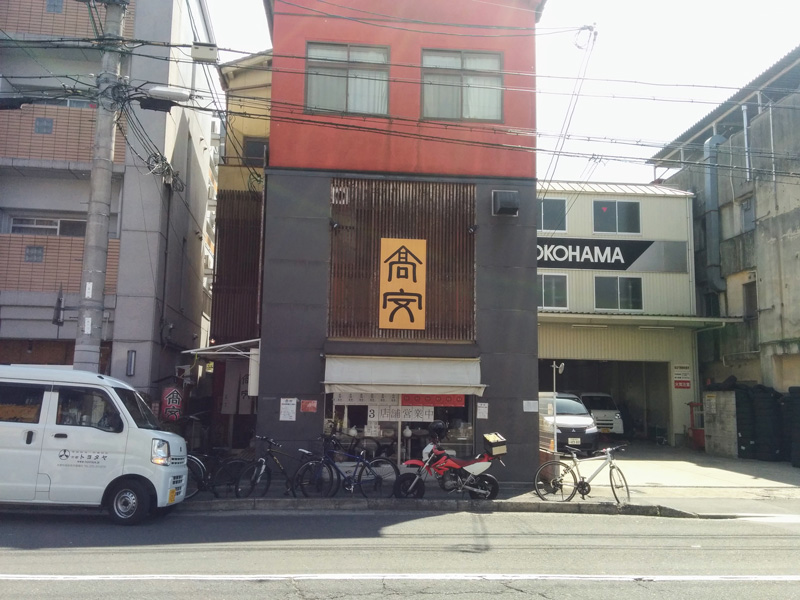 Menus is like this.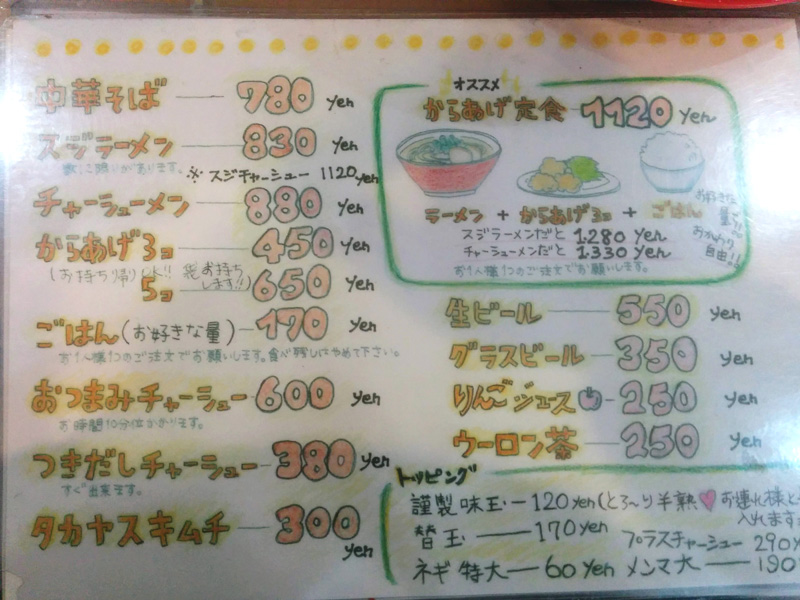 The price is the same as when I came last time. I ordered a beef sinew ramen (¥830) that "the number is limited". The amount of rice and fried chicken is a lot here.
I waited a little, and the ramen was carried. Like this!
adsense2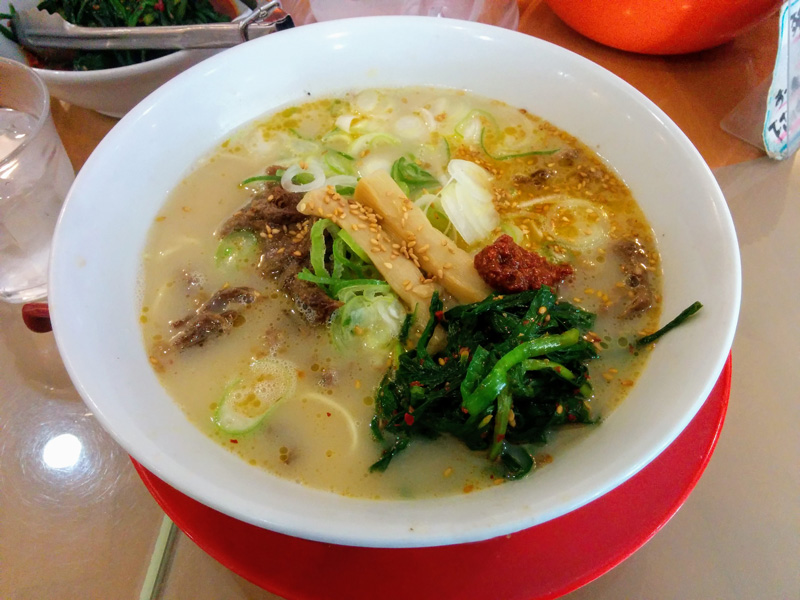 The pickles of the leek and the chili pepper are my topping. (free)
The beef sinew is like the one of sweet flavor that is in Oden. It is soft and delicious to eat. The pickles of the leek was a little spicy to eat as it was, so I mixed it with soup and ate it. The chili is natural, but it was quite spicy. I put it a little too much.
Well, it is essential ramen, but the noodles were fine straight noodles. And the soup is pork bone soup with a little sweetness. It tastes so mellow. I didn't feel the pig bone smell. I ate ramen while eating a beef sinew.
So, I received till the last drop of soup. As the taste of ramen, it may not be the taste that remains in special memory. Because it is a shop with a large amount of something, I think that it is popular among young people. I was impressed with many female guests.
When I finished eating, it was just lunchtime, and when I left the shop, the line of guests in front of the shop started.
Author's score・・・84points!!
Details
Shop name
Chinese Noodle Takayasu
Location
〒606-8185
10 Ichijyoji Takatsuki-cho, Sakyo-ku, Kyoto

Access
・4 minutes on foot to the northwest from Ichijyoji Station on the Eizan Electric Railway.
・3 min. walk south from Ichijoji Kita-Marutamachi bus stop by city bus.
・8 min. walk north from Takano bus stop by city bus or Kyoto bus.
・Parking for 3 cars. Coin-operated parking available nearby.
Business Hours
11:30~26:00
Regular Holyday
non-scheduled holiday
※Temporary closing days. Please check in-store or on our website.
Official Site
http://takayasuramen.com/