About Yoshida Shrine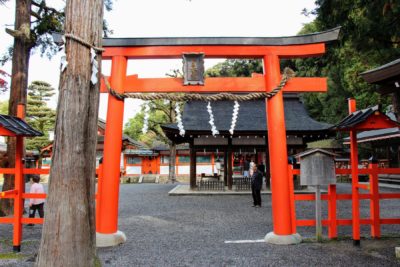 Yoshida Shrine is a shrine in Sakyo-ku, Kyoto. The history has begun in 859 when Fujiwara yamakage prayed for the coming of a deity of the Kasuga Taisha Shrine Four in Nara as the god of family.
The shrine is located at the foot of Mt. Yoshida, and when you try to reach the shrine from the north exit, it becomes a mountain climbing route. This is a valuable place where small natural mountain is left as it is in the city.
Yoshida Shrine is revered as the god of charm luck. In addition, there are shrines of many faiths in the precincts, such as the Great Yuan Palace honoring the god of the whole country, the god of food and the god of sweets.
adsense2
Yoshida Shrine photos
▼Press any thumbnail, and you can see the photo gallery.
▼Tap any thumbnail, and you can see the photo gallery.
Photographer: Taisuke Yamada
Details
Location
〒606-8311
30, Yoshida Kaguraoka-cho, Sakyo-ku, Kyoto, Japan

Telephone
TEL 075-771-3788
FAX 075-771-2877
Entrance fee
Free
Access

Keihan
20 minute walk from Demachiyanagi Station on the Keihan Main Line

City bus
5 minute walk from the Kyodai Seimon-mae stop on the 206 and 201 lines.

Car
Approximately 20 minutes from the Kyoto Higashi Interchange on the Meishin Expressway

Parking lot
Temporary parking Approx. 20 cars (only for use during visitation)
Site URL
http://www.yoshidajinja.com/
Recommended places to visit in conjunction with

The official name of Shinnyodo is Shinshogokurakuji, and it is a temple of Tendai in Sakyo-ku, Kyoto City. It is the begining that the monks of Mt.Hiei in 984 enshrined the Buddha Amitabha in the Imperial villa.

Konkaikomyo-ji Temple is a temple of the Jodo in Kurodani-cho, Sakyo-ku, Kyoto. The principal Buddha is Amida. The common name is called Kurodani-san. It is one of seven Daihonzan of Jodo who boasts the formality which is lined with Chionin.

Ginkaku temple is formally called Higashiyamajisho Temple and is a temple of the Rinzai Shokoku Temple sect. In 1490 in the Muromachi period, it was erected as Jisho temple, to mourn the reclining Bodhi of Ashikaga Yoshimasa, who died in January of that year.