About Konkaikomyo-ji Temple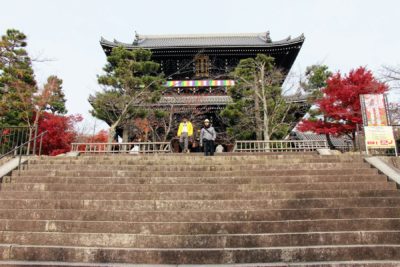 Konkaikomyo Temple is a temple of the Jodo in Kurodani-cho, Sakyo-ku, Kyoto. The principal Buddha is Amida. The common name is called Kurodani-san. It is one of seven Daihonzan of Jodo who boasts the formality which is lined with Chionin.
You can usually visit the Konkaikomyo Temple for free, but you will need to pay the admission fee at the time of autumn leaves. The beautiful colored leaves and the Japanese-style garden are lovely, and the view of the city of Kyoto from the place of the three towers where it climbed the mountain is a masterpiece. There are no photos, but Buddha statues in the main hall are also powerfully beautiful.
adsense2
Konkaikomyo-ji Temple photos
▼Press any thumbnail, and you can see the photo gallery.
▼Tap any thumbnail, and you can see the photo gallery.
Photographer: Taisuke Yamada
Details
Location
〒606-8331 121 Kurotani-cho, Sakyo-ku, Kyoto

Telephone
TEL 075-771-2204
Entrance fee

Free in the precincts

[Autumn Special Open House]
Mikagedo, Daihojo, Shiun garden 600 yen, Sanmon gate 800 yen, common 1,200 yen

Usual viewing season
Red leaves
Mid-November – Early December
Access

City bus
Get off at "Higashi Tenno-cho" on No. 5 and walk for 15 minutes.
10-minute walk from Okazaki-michi bus stop on routes 32, 100, 203, and 204

Subway
30 minute walk from Keage Station on the Subway Tozai Line.

Keihan
30 minute walk from Jingu-Marutamachi Station on the Keihan Kamoto Line.

Parking lot
Yes(Capacity for 30 cars)
Bicycle parking space available
Site URL
https://www.kurodani.jp/en/
Recommended places to visit in conjunction with

The official name of Shinnyodo is Shinshogokurakuji, and it is a temple of Tendai in Sakyo-ku, Kyoto City. It is the begining that the monks of Mt.Hiei in 984 enshrined the Buddha Amitabha in the Imperial villa.

Yoshida Shrine is a shrine in Sakyo-ku, Kyoto. The history has begun in 859 when Fujiwara yamakage prayed for the coming of a deity of the Kasuga Taisha Shrine Four in Nara as the god of family.

Heian Shrine is located in Okazaki, Sakyo-ku, Kyoto. It was planned as part of the Greater Palace restoration project at Heian Capital at the National Industrial Exposition held in Kyoto commemorating 1100 years after the capital moved to Heian-Kyo on April 1 in 1895, it was erected in the land of Okazaki, Sakyo-ku.