About Shinnyodo Temple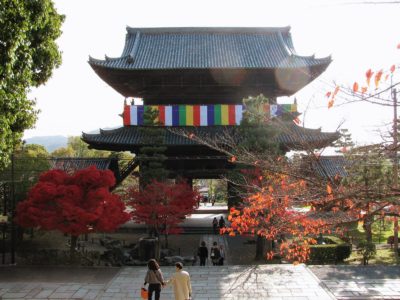 The official name of Shinnyodo is Shinshogokurakuji, and it is a temple of Tendai in Sakyo-ku, Kyoto City. It is the begining that the monks of Mt.Hiei in 984 enshrined the Buddha Amitabha in the Imperial villa. Shinnyodo has gained the faith of Nenbutsu devotees and commoners, especially women, as Fudan Nenbutsu's dojo. In recent years, it has gained popularity as a spot of autumnal leaves.
I went to this temple to take pictures of autumn leaves, and looked around only the perimeter, so I do not know how the inside, but on the inside, it seems that there are some pretty impressive things like treasures and gardens.
When I photographed here, the leaves were colored in particular. Shinnyodo is not a very large temple, so it might be a good idea to stroll along with the neighboring Ginkaku temple and Heian shrine.
adsense2
Shinnyodo Temple photos
▼Press any thumbnail, and you can see the photo gallery.
▼Tap any thumbnail, and you can see the photo gallery.
Photographer: Taisuke Yamada
Details
Location
〒606-8414
82 Shinnyo-cho, Jodoji, Sakyo-ku, Kyoto-shi, Kyoto

Telephone
TEL 075-771-0915(9:00~16:00)
FAX 075-771-1823
Entrance fee
Adults 500 yen, High school students 300 yen, Junior high school students 200 yen, Elementary school students free
Usual viewing season

Cherry
Early April

Red leaves
Late November – Early December

Access
City bus
Approximately 8 minutes walk from Kinrin Shako-mae bus stop on routes 5, 17, 32, 93, 203, 204, 100, and 102
Approximately 8 minutes walk from "Shinnyodomae" on routes 5, 32, 93, 203, 204
Parking lot
Ordinary car 5 degree
※No more than microbuses are allowed. Please use the Kyoto Municipal Ginkakuji Temple Tourist Parking Lot or other parking lots.
※During the fall foliage season, general tourist vehicles are not allowed to park.
Site URL
http://shin-nyo-do.jp/
Recommended places to visit in conjunction with

Konkaikomyo-ji Temple is a temple of the Jodo in Kurodani-cho, Sakyo-ku, Kyoto. The principal Buddha is Amida. The common name is called Kurodani-san. It is one of seven Daihonzan of Jodo who boasts the formality which is lined with Chionin.

Yoshida Shrine is a shrine in Sakyo-ku, Kyoto. The history has begun in 859 when Fujiwara yamakage prayed for the coming of a deity of the Kasuga Taisha Shrine Four in Nara as the god of family.

Ginkaku temple is formally called Higashiyamajisho Temple and is a temple of the Rinzai Shokoku Temple sect. In 1490 in the Muromachi period, it was erected as Jisho temple, to mourn the reclining Bodhi of Ashikaga Yoshimasa, who died in January of that year.