About Uhoin Temple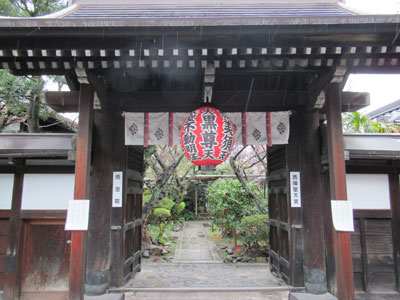 Uhoin Temple is a temple of the Sennyuji School of Shingon Buddhism, located in Kamigyo-ku, Kyoto City. Commonly known as Nishijin Shotengu. The temple is founded by Kobo Daishi.
Uhoin Temple was named Kitamukaizan Daisho Kankiji Temple, and since the 12th year of Hirohito (821), Kobo Daishi bowed to the jade body with one sword and three swords to heal the brain of Emperor Saga, prayed and lit up the spiritual experience, and since then, it was a large temple that flourished as an imperial castle protector along with Toji Temple.
There are two important cultural properties: a standing statue of Senju Kannon and a statue of Kobo Daishi. The principal image, the Daishojokitenzon, is a secret statue and cannot be seen.
Within the precincts of the temple are the Goyo Cherry Blossom, Joyous Cherry Blossom, Shigure-no-matsu (Pine Tree of Shigure), and Some-dono Well.
Unfortunately, it was raining on the day we went to take pictures, but the weeping cherry trees were blooming beautifully. At first I wondered where the red pine tree called "Shigure-no-matsu" was, but it was actually a large overgrowth in the middle of the temple grounds.
In the immediate neighborhood of this Amuhoin temple, there is a small shrine called Iwakami Shrine, where a large rock is enshrined as a god. As is typical of urban shrines, the place is small, but it is a stylish little shrine.
adsense2
Uhoin Temple photos
▼Press any thumbnail, and you can see the photo gallery.
▼Tap any thumbnail, and you can see the photo gallery.
Photographer: Taisuke Yamada
Details
Location
〒602-8481 9-3, Seiten-cho, Kamitachiuri-dori, Chiekoin-dori, Kamigyo-ku, Kyoto-shi, Kyoto

Telephone
TEL:075-441-8678
Entrance fee
free
Access
5 minutes walk from Imadegawa Jofukuji bus stop on routes 51, 59, 201, 203 city buses
From the Senbon Kamitachiuri stop on routes 6, 46, and 206 (city buses): 5 minutes on foot.
Parking lot
none
Site URL
https://www.uhoin.com/
Recommended places to visit in conjunction with

Kenkun Shrine (Takeisaojinja) is a somewhat smaller shrine on the Funaoka mountainside, Kita-ku, Kyoto. It is a shrine that is enshrined Oda Nobunaga. In general, it is called "Kenkunjinja".

Suika Tenmangu Shrine is located in Kamigyo-ku, Kyoto City. It is said to be the god of water and fire prevention. It is familiarly known to locals as "Suika no Tenjin-san".

Shiramine Jingu Shrine is located in the northeastern corner of Horikawa Imadegawa in Kamigyo-ku, Kyoto City.