About Suika Tenmangu Shrine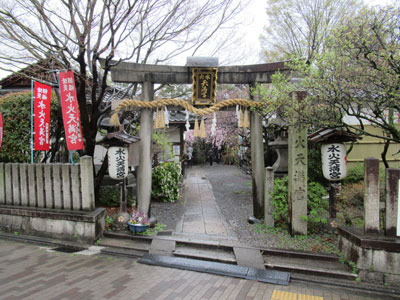 Suika Tenmangu Shrine is located in Kamigyo-ku, Kyoto City. It is said to be the god of water and fire prevention. It is familiarly known to locals as "Suika no Tenjin-san".
In 923 (the first year of the Enryaku-ji Temple's reign), the temple was built by the order of the Emperor Daigo, who requested that the temple's priest Soni of Enryaku-ji Temple be built as a guardian deity against water and fire disasters.
Located just off the Tenjin Koen-mae bus stop on Horikawa Dori, it is known by locals as a secret cherry blossom viewing spot with few tourists.
It was raining lightly the day I photographed, but there were quite a few people who came to see the cherry blossoms.
Within the precincts of the shrine, there is a complete set of items typical of a Shinto shrine: the Rokutama Inari shrine, the Noboritenishi stone on which the spirit of Michizane is said to have alighted, the Succession Stone donated by a recently promoted person, the Kinryusui well water said to cure eye diseases, and the Tamagoishi, a stone for easy delivery.
If you come here expecting numerous cherry blossoms, you may be a little disappointed, but I thought it would be a great urban oasis for the neighborhood residents.
adsense2
Suika Tenmangu Shrine photos
▼Press any thumbnail, and you can see the photo gallery.
▼Tap any thumbnail, and you can see the photo gallery.
Photographer: Taisuke Yamada
Details
Location
〒602-0071 722-10 Ogi-cho, Horikawa-dori Kamigoryomae-agaru, Kamigyo-ku, Kyoto-shi, Kyoto

Telephone
TEL:075-451-5057
Entrance fee
free
Access
10 minutes walk from Kuramaguchi Station on Subway Karasuma Line
Get off at Tenjin Koen-mae bus stop on routes 9, 12, and 67 of the city bus.
Parking lot
none (Coin-operated parking available nearby)
Site URL
http://suikatenmanguu.com/
Recommended places to visit in conjunction with

Uhoin Temple is a temple of the Sennyuji School of Shingon Buddhism, located in Kamigyo-ku, Kyoto City. Commonly known as Nishijin Shotengu. The temple is founded by Kobo Daishi.

Located in Kamigyo-ku, Kyoto City, Myokenji Temple, also known as Gusoku-zan Myokenji Temple, was founded in the late Kamakura period (1185-1333) and was the first Nichiren-shu temple in Kyoto.

Kenkun Shrine (Takeisaojinja) is a somewhat smaller shrine on the Funaoka mountainside, Kita-ku, Kyoto. It is a shrine that is enshrined Oda Nobunaga. In general, it is called "Kenkunjinja".