About Sudo Shrine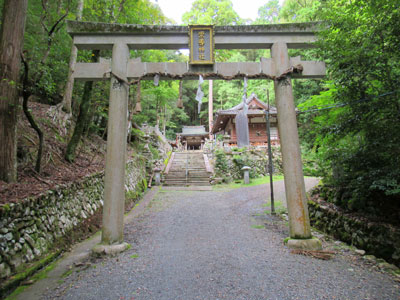 Sudo Shrine is the shrine located in Kyoto City Sakyo district Kami Takano.
It is located along the street beyond the Hanazono Bridge intersection going east and crossing a small bridge.
According to shrine legend, the shrine was built in the Jokan period (859-877) to comfort the soul of Prince Hayara (Emperor Sudo), who was arrested as the ringleader of the assassination of Tanetugu Fujiwara, an envoy of Nagaokakyo in September 785 (Enryaku 4), imprisoned at Otokuni-ji Temple, and then exiled to Awaji, where he is said to have died fasting after claiming innocence.
The approach from the entrance to the main shrine is a straight line, passing through a torii gate along the way.
There are three precinct shrines at Sudo Shrine: Itata Shrine, Izumo-Takano Shrine, and Ono Shrine. Of these, "Itata" in Itata Shrine means "hot water standing", and as the patron god of agriculture of the Izumo lineage, it is familiarly known as the god of agriculture.
It is also said that the pronunciation of the word "itata" brings blessings for healing illnesses.
Ono Shrine is dedicated to Ono no Imoko and her son Ono no Emishi. On the east side of Ono Shrine, there is a shrine dedicated to Nyorin Kannon Daibosatuzon.
It may be inappropriate since it is a shrine, but I thought this approach was just right for a walking path. Since it is located in a forest, you can probably cool off here in the summer.
adsense2
Sudo Shrine photos
▼Press any thumbnail, and you can see the photo gallery.
▼Tap any thumbnail, and you can see the photo gallery.
Photographer: Taisuke Yamada
Detail
Location
〒606-0064 34 Nishimyojiyama, Kamitakano, Sakyo-ku, Kyoto-shi, Kyoto

Telephone
TEL:075-722-1486
Entrance fee
free admission for worship
Access
Short walk from "Kanbashi" of Kyoto Bus (routes: 10, 16, 17, 18, 19)
10 minute walk from Miyake Hachiman Station on the Eizan Line
Parking lot
Several cars can be parked in front of the torii (free of charge)
Site URL
https://ja.wikipedia.org/wiki/崇道神社
Recommended places to visit in conjunction with

Rengeji Temple is a Tendai sect temple with the name Kimyozan. During the Kanbun period (1661-1673), Shigenao Imaeda, a vassal of the Kaga Maeda family, was ordained and lived in a house here. It is also one of the best places for viewing the autumn leaves in the northern part of Kyoto.

Miyake Hachimangu Shrine is located in Kamitakano Miyake-cho, Sakyo-ku, Kyoto City. The shrine is also known as "Mushi Hachiman" (meaning "Insect Hachiman") because it is believed to be effective in exterminating insects as a god of insect control.