About Miyake Hachimangu Shrine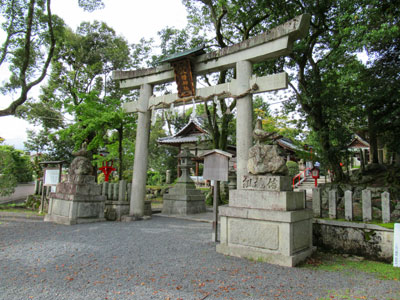 Miyake Hachimangu Shrine is the shrine located in Kyoto City Sakyo district Kami Takano Miyake town. Its benefits are as the protection god for children, warding off canker sores, prevention of night cries, easy childbirth, and academic success and so on and as it is effective for extermination of pests as the god of insect repellent and it is also called "Mushi Hachiman".
Eizan Train has Hachiman mae station, I have been curious about what the shrine is like from my childhood age, I went to take photo there riding a motorbike for the first time that day.
Although parking is free, it was also written that those who would like to go to Sanmeiin temple near there must pay 500 yen for their parking car. It is quite stringent as to this.
There is a Miyake Hachiman teahouse in the middle of the approach, and it was crowded with worshippers inside. According to the food log, you can get a Japanese sweet called Hato Mochi, which is shaped like a pigeon. It is very elegant to be able to get sweets in the precincts of the shrine.
At the southern entrance of the main shrine, komahato (guardian pigeons), rather than komainu (guardian dogs) are placed as messengers of the gods. When the author photographed the precincts, there were actually pheasant walking around the temple grounds. It was so accustomed to people that they wouldn't fly away when I pointed the camera at it.
And there are stone monuments of cute dove figures lined, which soothe the hearts of visitors.
adsense2
Miyake Hachimangu Shrine photos
▼Press any thumbnail, and you can see the photo gallery.
▼Tap any thumbnail, and you can see the photo gallery.
Photographer: Taisuke Yamada
Detail
Location
〒606-0035 22 Miyake-cho, Kamitakano, Sakyo-ku, Kyoto-shi, Kyoto

Telephone
TEL:075-781-5003
Entrance fee
free admission for worship
Access
2 minutes walk from "Hachiman-mae" bus stop of Eizan Electric Railway
Eizan Electric Railway "Miyake Hachiman" stop, 6 minutes walk
1 minute walk from Hachiman-mae bus stop by Kyoto Bus
5 minutes on foot from Miyakehachiman bus stop by Kyoto Bus
15 minutes from Kokusaikaikan Station (Kyoto Municipal Subway)
Parking lot
free
※500 yen parking fee if going to Sanmeiin Temple
Site URL
https://www.miyake-hachiman.com/
Recommended places to visit in conjunction with

The Sudo Shrine was built during the Jokan period (859-877) to comfort the soul of Prince Hayara (Emperor Sodo), who was arrested as the ringleader of the assassination of Fujiwara no Tanetsugu, imprisoned at Otokuni-ji Temple, and on his way to Awaji, died fasting after claiming his innocence.

Rengeji Temple is a Tendai sect temple with the name Kimyozan. During the Kanbun period (1661-1673), Shigenao Imaeda, a vassal of the Kaga Maeda family, was ordained and lived in a house here. It is also one of the best places for viewing the autumn leaves in the northern part of Kyoto.