About Shojiji temple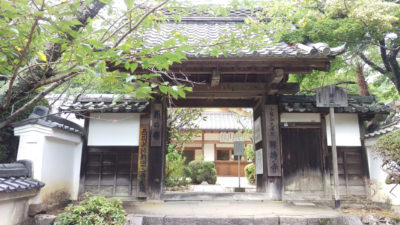 Shojiji Temple is a temple of Tendai in Nishikyo-ku, Kyoto, honorific mountain name prefixed to a temple's name is Oshio mountain. The principal image is Bhaisajyaguru.
It is said that Saigyo, a singing monk, became a priest in this temple, and because there is a double cherry blossom "Saigyo Sakura" which is said that the Saigyo monk planted himself, it came to be familiar as "Temple of the Flower".
There are many cherry blossoms planted in the precincts, so it looks as if the inside of the temple is buried in the flowers during full bloom. The pictures on this page are not from the cherry blossoms season, if you visit here during the Cherry blossom season, you will be able to see good views.
adsense2
Shojiji temple photos
▼Press any thumbnail, and you can see the photo gallery.
▼Tap any thumbnail, and you can see the photo gallery.
Photographer: Hiroki Iwata
Details
Location
〒610-1153
1194 Minamikasuga-cho, Oharano, Nishikyo-ku, Kyoto

Telephone
TEL 075-331-0601
FAX 075-331-0664
Entrance fee
Adults 400 yen, junior high and high school students 300 yen, elementary school students 200 yen
Usual viewing season

Cherry(100 trees)
Early to mid April

Red leaves
Mid to late November

Access

Train/Bus
・Get off at JR Mukomachi Station or Hankyu Higashi Muko Station, transfer to Hankyu Bus and get off at Minami-Kasuga-cho (1.1 km).
・Get off at the west exit of Hankyu "Katsura" station, take the city bus No.2 West, and get off at Rakusai High School. 1.8 km from the bus stop.

Car
Via Gojo Dori, National Route 9, turn left at Kutsukake-guchi or Kutsukake on National Route 9.

Parking lot
Microbuses and 20 private cars
No large buses allowed
Site URL
http://www.shoujiji.jp/
Recommended places to visit in conjunction with

Oharano Shrine is a shrine in Nishikyo-ku, Kyoto City, and is called "Kyoto Kasuga" too. Oharano Shrine has been collecting faith as the Guardian God of the woman who has been giving the so as the god of Politics, Katayoke, and wisdom for a long while.

Kyoto City's western New town is also known as a new town surrounded by bamboo, located in the Oeda and Oharano of the bamboo region. However, because a lot of bamboo was cut down by the construction of the new town, the Bamboo Grove Park was opened hearing the voice of actively saving the remaining bamboo grove.