About Okazaki Shrine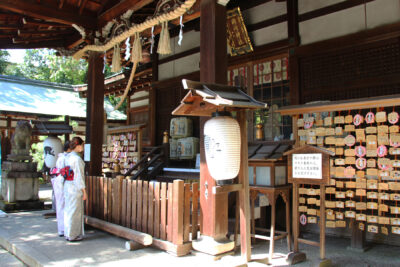 The saijins of Okazaki shrine are Susanoonomikoto, Kushiinadahimenomikoto, Yaharashinomikogami. Okazaki shrine is one of the shrines built in four directions of Heiankyo for the royal castle protection at the time of the relocation of Nagaokakyo to Heiankyo in the era of Kanmu emperor.
And the shrine was built by edict of Seiwa emperor, and people wished for calming down the epidemic by welcoming and worshiping Gion Gozu Tenno from broad crest in Harima Province.
The benefits of the shrine are childbirth and easy delivery, marriage, a protective charm. Its gods are worshiped as god for childbirth and easy delivery as the whole area including the precinct is the habitat of wild rabbits in the past and prolific rabbits are told as servant of UJigami from a long time ago.
adsense2
Okazaki Shrine photos
▼Press any thumbnail, and you can see the photo gallery.
▼Tap any thumbnail, and you can see the photo gallery.
Photographer: Taisuke Yamada
Details
Location
〒606-8332 51 Okazaki Higashi Tenno-cho, Sakyo-ku, Kyoto-shi, Kyoto

Telephone
TEL 075-771-1963
Entrance fee
Free
Access

[City bus]
No. 32, 203, 93, 204 "Okazaki Jinja-mae" stop
No. 5 "Higashi Tenno-cho" stop
[Keihan] Get off at Jingu-Marutamachi Station
[Subway Tozai Line] Get off at Keage Station

Parking lot
Two cars in the precinct
Site URL
https://okazakijinja.jp/
Recommended places to visit in conjunction with

Heian Shrine is located in Okazaki, Sakyo-ku, Kyoto. It was planned as part of the Greater Palace restoration project at Heian Capital at the National Industrial Exposition held in Kyoto commemorating 1100 years after the capital moved to Heian-Kyo on April 1 in 1895, it was erected in the land of Okazaki, Sakyo-ku.

Konkaikomyo-ji Temple is a temple of the Jodo in Kurodani-cho, Sakyo-ku, Kyoto. The principal Buddha is Amida. The common name is called Kurodani-san. It is one of seven Daihonzan of Jodo who boasts the formality which is lined with Chionin.

If you want to see the autumnal leaves in Kyoto, the Eikando is famous for the autumnal leaves as it is said that Eikando is recommended. Of course the best time to see here will be in late autumn when leaves color from mid November to late November.