About Manshuin Monzeki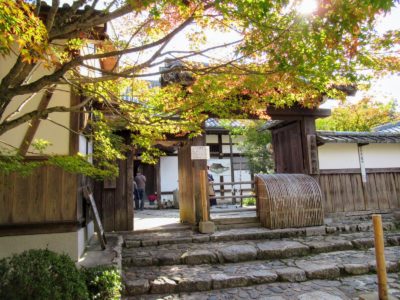 Manshuin Monzeki is a temple in Ichijoji, Sakyo-ku, Kyoto. Monzeki means that the people of the Imperial clan was the chief priest.
In enryakuji years (728-806), founder Dengyo Daishi Saicho founded a temple in the ground of Hiei as a dojo of spiritual protection of the state, and it is the beginning of the Manshuin.
As for the building, the design which was common with Katsura Rikyu in the nail hider, the puller, and transom etc. of the Shoin was seen, and it was made from the studio of the same series, and Manshuin is said to be "small Katsura Rikyu" by these.
Manshuin Monzeki is geographically located in the back of Ichijoji, and this time I lost my way. And, the photograph of the inside of the building was prohibited at the time of taking a picture, and it was not possible to photograph the barrier drawing, the small shoin (important cultural property), and the room of Fuji. But I was able to enjoy the garden of Karesansui, which is designated as a scenic garden.
Manshuin Monzeki is also known as a beautiful temple with autumnal leaves, and if you visit at the peak of autumn leaves, you will be able to appreciate the beautiful figure. The season of autumn leaves is usually from mid-November to late.
adsense2
Manshuin Monzeki photos
▼Press any thumbnail, and you can see the photo gallery.
▼Tap any thumbnail, and you can see the photo gallery.
Photographer: Taisuke Yamada
Details
Location
〒606-8134
42, Ichijyoji-Takenouchi-cho, Sakyo-ku, Kyoto-shi, Kyoto

Telephone
TEL 075-781-5010
Entrance fee
General 600 yen
High school students 500 yen
Junior high school and elementary school students 400 yen
Usual viewing season

Kirishima azalea
Around early May

Red leaves
Mid-November – late November

Access

City bus
From JR Kyoto Station, take Line 5.
From Kitaoji Subway Station, take Kita Route 8.
Other route 31.
From Kokusai Kaikan Subway Station, take lines 5 or 31.
Get off at "Ichijyoji Shimizumi-cho" and walk east for 20 minutes.

Eizan Railway
Approx. 20 min. walk from Shugakuin Sta.

Parking lot
50 cars free of charge (standard cars only)
Site URL
https://www.manshuinmonzeki.jp/
Recommended places to visit in conjunction with

Ichijoji ramen road is introduced after a local people actually eat ramen along the ramen road. Ichijoji Ramen map also posted. The intersection of Kitaoji street and Higashioji street (Takano) to the north, the area is called the Ichijoji Ramen Road, and the area is known as the best battleground of ramen shops in Kyoto.

The Takagaike Park is located at near the International Hall of the Municipal subway station and a 15-minute walk to the south. There is a small parking lot, so it is convenient to stop by on the drive.