About Koetsuji Temple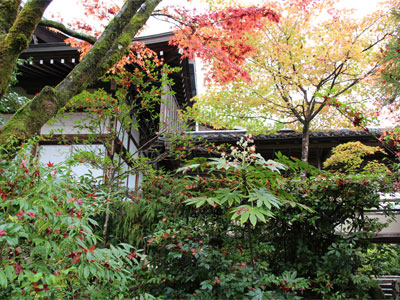 Koetuji Temple is a Nichiren-sect temple located in Kyoto City Kita word Takamine Koetu town. It is located in a scenic area north of Kyoto overlooking the Takagamine Sanzan (Takagamine, Washagamine, and Tengamine peaks).
An artist in Edo era, Koetu Honada, had a separate house here in the first year of the Keicho era (1596-1615), but in the first year of Genna era (1615), Ieyasu Tokugawa gave him the land in the vicinity.
Koetu, who moved to this area in earnest in 1619, created a large art village having gathered more than 100 people of his family, various craftsmen and their families to let them live in there, so-call Koetu Village. Also, he built Hokkadaimokudo near his house.
In Meireki 2 (1656) after Koetu's death, his mansion and the Hokkadaimokudo were organized with Nichiren-sect Nichiji as the founder, and became Koetuji Temple.
We can see beautiful autumn leaves through the approach of Koetuji Temple and there are a number of elegant tea rooms in the garden. Going back in the garden, we can see the mountains and the city of Kyoto from the red-colored hill.
I could see Takagamine, Washigamine, Tengamine, nearby and Hwajeongsan, Shimizuyama, and Funaokayama in the distance.
adsense2
Koetsuji Temple photos
▼Press any thumbnail, and you can see the photo gallery.
▼Tap any thumbnail, and you can see the photo gallery.
Photographer: Taisuke Yamada
Details
Location
〒603-8466 29 Takagamine Koetsu-cho, Kita-ku, Kyoto-shi, Kyoto

Telephone
TEL:075-491-1399
Entrance fee
General 400 yen (junior high school students and older)
500 yen when the leaves change color.
Access
From Kitaoji Subway Station (Karasuma Line), take city bus North No. 1 bound for Gentaku, get off at Takagamine-Genkoan-mae, and walk west for 2 minutes.
From Shijo Omiya, take city bus (No. 6) bound for Gentaku, get off at Takagamine-Genkoan-mae and walk 2 minutes to the west.
Parking lot
Yes
Closed during the fall foliage season.
Site URL
https://ja.wikipedia.org/wiki/光悦寺
Recommended places to visit in conjunction with

Genkoan is a Soto Zen temple located in Takagamine, Kita-ku, Kyoto. It was founded more than 670 years ago in 1346 by Tetsuo Kokushi, the second head priest of Daitokuji Temple, the head temple of the Rinzai sect.

Imamiya Shrine is a shrine in Murasakino, Kita-ku, Kyoto. Also known as the Shrine of marry into a wealthy family. There are two Meibutsu grilled Mochi shop on the doorstep of the shrine's West Gate.

Kenkun Shrine (Takeisaojinja) is a somewhat smaller shrine on the Funaoka mountainside, Kita-ku, Kyoto. It is a shrine that is enshrined Oda Nobunaga. In general, it is called "Kenkunjinja".