About Genkoan Temple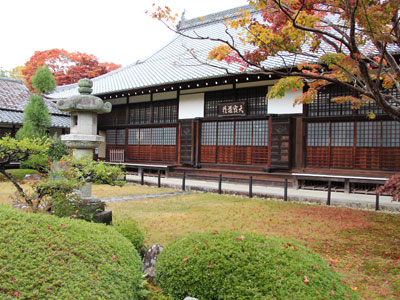 Genkoan is a Soto-sect temple located in Kyoto City Kita word Takamine. In Teiwa 2 (1346) about 670 years ago from now, it was opened by National Teacher Tetuo Kokushi, send generation of Daitokuji Temple, Daihonzan of the Rinzai sect of Zen Buddhism, but it was changed to the Soto sect temple after the 27th Zenji Manjisan Dobaku of Daijyo-ji Temple in Kanazawa City, Ishikawa Prefecture, was appointed as the abbot of this temple.
Inside the main hall, there is a round window named the Window of Enlightenment and a corner window called the Window of Confusion. The round shape of the Window of Enlightenment represents the mind of "Zen and Entu". As it can open the nature as it is, a clean, unprejudiced appearance, those are: the state of enlightenment, the round shape (the circle) represents the Great Universe. Also, the rectangular shape of the Window of Confusion symbolizes the unavoidable processes of human beings from birth to the end of their lives, those are: the lifetime of "human beings" and represents all sufferings of birth, aging, illnesses, and death.
The ceiling panels were moved from Fushimi Castle, and the ceiling is covered with blood from the battle of Fushimi Castle in 1600, when the Tokugawa forces of Mototaba Torii and others were defeated by Mitunari Ishida and committed suicide. There were also the tablets of more than 1,800 members of Torii Hikoemon Mototaba's party.
Else, there was a sliding door painting by Seikei Yamaguchi.
The Japanese-style garden in Genkoan was beautiful as the autumn leaves were colored red. I had the expression that the autumn leaves are the best time to see or a little early in this time's photo shootings, I could enjoy enough the calm air of the temple.
adsense2
Genkoan Temple photos
▼Press any thumbnail, and you can see the photo gallery.
▼Tap any thumbnail, and you can see the photo gallery.
Photographer: Taisuke Yamada
Detail
Location
〒603-8468 47 Takagamine Kitatakagamine-cho, Takagamine, Kita-ku, Kyoto-shi, Kyoto

Telephone
TEL:075-492-1858
Entrance fee
Adults 400 yen (junior high school students and older)
500 yen in November
Children 200 yen (elementary school students)
Access
From Kitaoji Station (Subway Karasuma Line), take city bus (North No. 1) bound for Gentaku and get off at Takagamine-Genkoan-mae.
From Shijo Omiya, take city bus (No. 6) bound for Gentaku and get off at Takagamine-Genkoan-mae.
Parking lot
15 standard cars, 1 bus
No cars allowed during foliage viewing.
Site URL
https://genkouan.or.jp/en/
Recommended places to visit in conjunction with

Koetsuji Temple is a Nichiren Shu temple located in Takagamine Koetsu-cho, Kita-ku, Kyoto. It is located in a scenic spot overlooking the three mountains of Takagamine (Takagamine, Washigamine, and Tengamine) in the north of Kyoto. There are a number of elegant teahouses in the garden.

Imamiya Shrine is a shrine in Murasakino, Kita-ku, Kyoto. Also known as the Shrine of marry into a wealthy family. There are two Meibutsu grilled Mochi shop on the doorstep of the shrine's West Gate.

Kenkun Shrine (Takeisaojinja) is a somewhat smaller shrine on the Funaoka mountainside, Kita-ku, Kyoto. It is a shrine that is enshrined Oda Nobunaga. In general, it is called "Kenkunjinja".