About Jidai Festival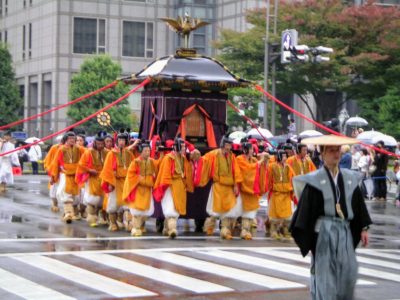 Jidai Festival is one of the three major festivals in Kyoto held on late in October every year, and it is a festival of relatively shallow Heian Jingu, which began in the Meiji period.
The Jidai Festival is a festival in which the people who wore the costume by customs of each age before when the capital moved to Tokyo are procession, "Meiji Restoration", "Edo period", "Azuchi Momoyama period", "Muromachi period", "Nanbokucho Era", "Kamakura period", "Heian Era", "Enryaku" and the procession goes back to the era.
The course starts at the Kyoto Imperial Palace and arrives at Heian Jingu Shrine through Karasuma Dori, Oike Dori and Sanjo Dori. There is a pay seat in various places, but it is recommended if you see it for free in the vicinity of the Sakai Town Gomon (South Gate) of Kyoto Imperial Palace and the Oten Gate (South Gate) in Heian Jingu Shrine.
As an aside, my sister has participated in this festival wearing the costume of Baekje. At that time, there is a memory of was taking a lot of pictures around the procession.
adsense2
Jidai Festival photos
▼Press any thumbnail, and you can see the photo gallery.
▼Tap any thumbnail, and you can see the photo gallery.
Photographer: Taisuke Yamada
Details
Schedule
2019-10-26(Rainy days are postponed and the morning court is judged on the same day.)
Route
Kyoto Imperial Palace(12:00) → Karasuma Marutamachi (12:30) → Karasuma Oike (12:50)  → kawaramachi Oike (13:20) → Kawaramachi Sanjo (13:30) → Sanjo Jingumichi (14:10) → Heian Jingu Shrine(14:30)
(Time stated above will be sometimes a little behind schedule.)
Kyoto City Tourism Association
TEL:075-213-1717
※Inquiries about paid seating, etc.
Site URL
http://www.heianjingu.or.jp/english/english.html
Recommended places to visit in conjunction with

Heian Shrine is located in Okazaki, Sakyo-ku, Kyoto. It was planned as part of the Greater Palace restoration project at Heian Capital at the National Industrial Exposition held in Kyoto commemorating 1100 years after the capital moved to Heian-Kyo on April 1 in 1895, it was erected in the land of Okazaki, Sakyo-ku.

The Kyoto Imperial Palace is called "Gosho" by the neighboring residents and is popular. From the 14th century to the early Meiji period, this is the place where successive emperors lived, priest rituals and public service.