About Gion Festival Yoiyama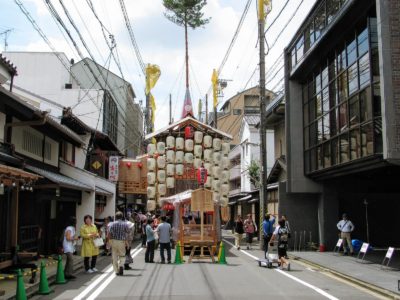 The Gion festival is the biggest event of the summer in Kyoto. "Maematsuri" at July 16 and "Atomatsuri" at July 23 that they take place the day before the Yamabokojunko, and they are called Yoiyama. Especially on Yoiyama day the festival will show the greatest upsurge. Yama and Hoko are prepared in each town in the center of Kyoto City, and there are the one to be able to peep inside, too.
The time zone of the Yoiyama rises from evening to night. Shijo Street and Karasuma Street intersection are lined with street vendors, and there are tens of thousands of people. Also, in Yoiyama you will usually walk around the local area and watch "Yama" and "Hoko", so you will be walking a long distance. When appreciating it in the locale, it is recommended to wear it as light as possible, and to go wearing athletic shoes.
In addition, in the place with Yama and Hoko, the child sells the thing wrapped in bamboo leaves which is a talisman for charm. There seems to be a different profit depending on where you buy it, so it might be good to buy it after you have checked the benefits in advance.
adsense2
Gion Festival Yoiyama photos
▼Press any thumbnail, and you can see the photo gallery.
▼Tap any thumbnail, and you can see the photo gallery.
Photographer: Taisuke Yamada
Details
Location
Near Shijo-Karasuma intersection
※Stalls along Karasuma Dori open (18:00~23:00)
Schedule
July 14~16 Former festival
July 21~23 the second festival
Site URL
http://www.gionmatsuri.or.jp/foreign/en/
Recommended places to visit in conjunction with

Honnoji is a temple of Nichiren Buddhism, southwest of Kawaramachi Oike in Nakagyo ward, Kyoto. This temple is very famous in Honnoji incident that Mitsuhide Akechi avenge Nobunaga Oda.

Mibudera Temple is a disciplinary Daihonzan Buddhist temple in Nakagyo-ku, Kyoto. Mibudera Temple is known as a temple which conveys "Dainenbutsu Kyogen" that "Enkaku Jonin" of "Yuzu Nenbutsu" started, and it is also known as a temple with a history of Shinsengumi.