Gourmet Report
"Hosokawa", about which we had heard rumors before. I went to the main shop of this chain in Nishioji Hanayacho. There was a parking lot for about five cars in front of the shop. There was also a parking space for bicycles. It seemed to be convenient.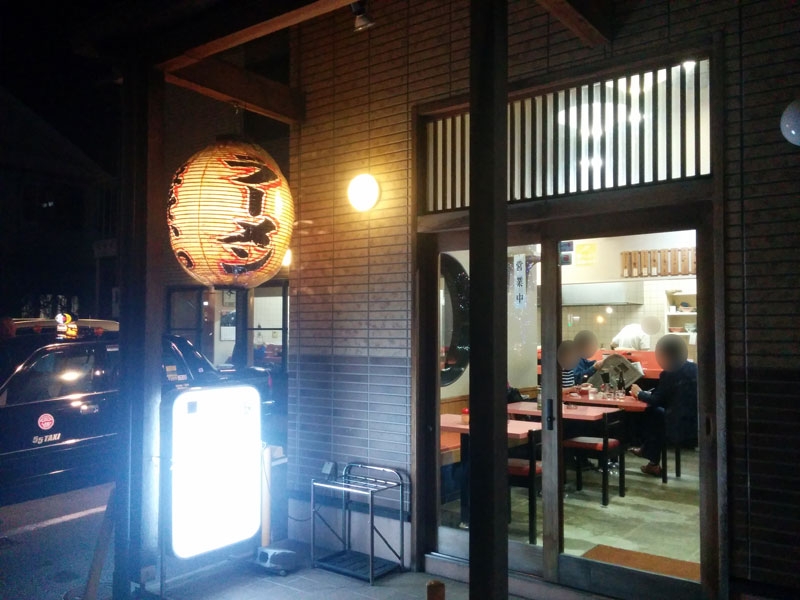 When I entered the shop, there were three tables with two chairs and there were more than ten counter seats there.
The menu was simply "Ramen", "Char-siu pork ramen" and rice, so I ordered ramen(700yen) and middle-sized rice(200yen). I feel it is a little expensive for the price of ramen but the price of ramen is generally high in the shops around here, so it might be as such,
I waited for a while and the ramen was carried.
The back fat was so tight!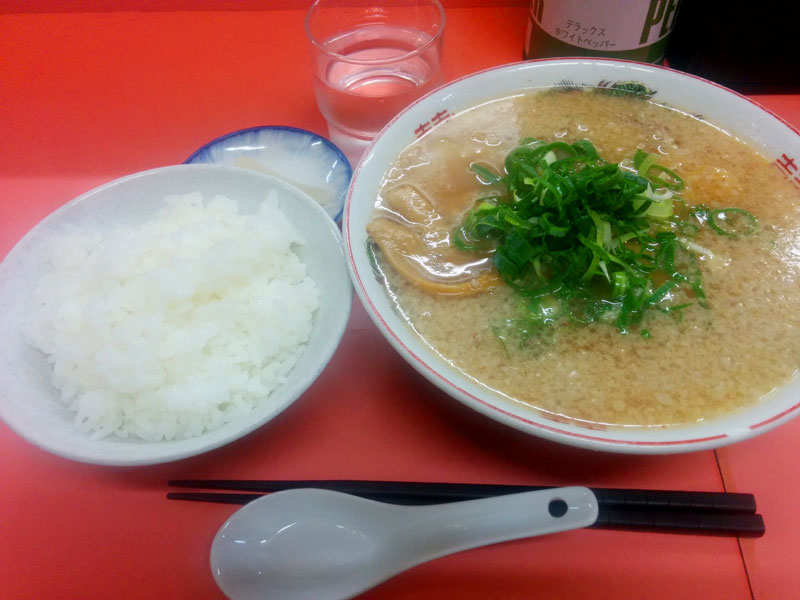 First, the soup was a back-fat sprinkled type of soy sauce soup. It was a standard type of Kyoto ramen. Noodles are medium straight noodles. It had three small slices of Char Sue made from pork on it. The others were Menma, green Leek, In general, it was reminiscent of the ramen of Ginkakuji Masutani.(I hear the owner trained in Masutani.)
I ate it immediately!
The soup of the back fat soy sauce, and its taste which I get used to eat. It does not betray my expectation, When I ate the noodles there was a flavor of eggs, The medium thin noodles were delicious being entwined with the soup. However, because the noodles were being tangled, I felt it was a little difficult to eat in regard to sucking them to the last.
The Char sue was soft and delicious. The taste of Menma was also good. Eating noodles while biting a slice of Char Sue, It is the usual pattern, but it is irresistible. In the end, I ate white rice with ramen soup and pickled vegetables.
As my impression of eating there, I thought this shop was so-so good as the place where we can eat so-called typical "Kyoto ramen". Sometimes we want to eat a backfat sprinkled type of soy sauce soup ramen like this.
Author's score・・・88points!!
Details
Shop name
Hosokawa Hanaya-cho main shop
Location
〒615-0803
15, Nishikyogoku Minamishozaki-cho, Ukyo-ku, Kyoto-shi, Kyoto

Access
Hankyu "Nishikyogoku" station, 10 minutes walk.
City bus "Nishioji Hanayacho" stop, 5 min. walk to the west.
Get off at Nakanobashi Gojo bus stop and walk south for 6 minutes.
Get off at Tsukiyomibashi bus stop and walk north for 6 minutes.
Business Hours
10:00~20:00
Regular Holyday
Sunday
Site URL
http://kyoto-hosokawa.com/sub4.html