Gourmet report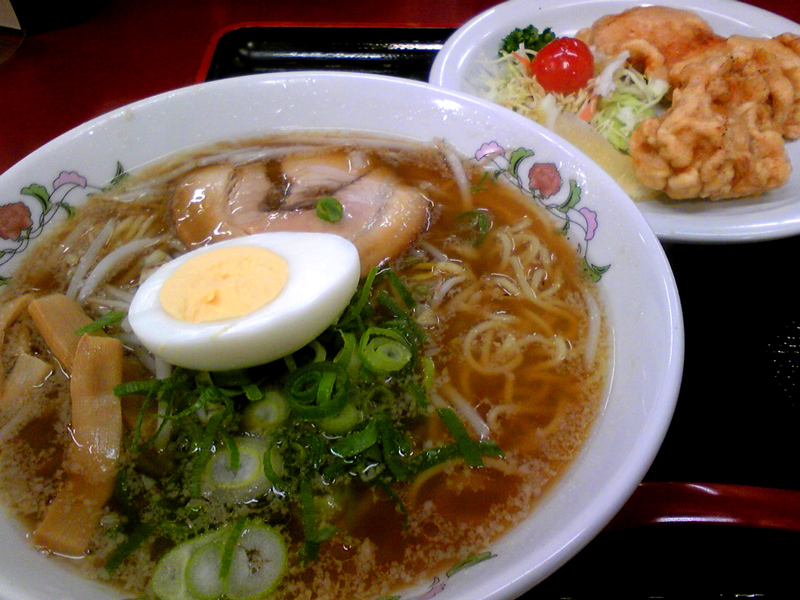 adsense2
I ordered the ramen set at the Kitashirakawa branch of the Gyoza no Osho. This shop uses the back-fat soy sauce base soup. There is half of a boiled egg on the ramen and it was quite delicious ramen. It is set with fried chicken and rice. Because it is the Gyoza no Osho (meaning the King of the dumplings), I would like to have dumplings as well.
They usually sell the raw ramen 2 servings set (soy sauce, miso, or tonkotsu base soups) aside at the casher. This is pretty good so you may want to buy it for home.
The Gyoza no Osho has a lot of different kinds of ramen such as regular ramen(¥400), Japan ramaen (¥680), Spicy ramen (¥430), Kotteri ramen(¥580), Kimchi ramen(¥530), Chanpon ramen(¥580), Miso ramen (¥550), Gomoku ramen(¥550), Roasted pork ramen(¥660), and Tenshin ramen(¥520). I may not get tired of eating even if I come here so often since there is a lot of choices.
Author's score・・・78points!!
Details
Shop name
Gyoza no Osho Kitashirakawa shop
Location
〒606-8175
98-1 Ichijyoji-Tsukidacho, Sakyo-ku, Kyoto-shi, Kyoto

Access
・650m east of Chayama Station on the Eizan Electric Railway
・Parking available (35 spaces)
Business Hours
Monday~Saturday/AM10:30~AM1:00 (Last Order 0:30)
Sunday & Holyday/10:30~22:00 (Last Order 21:30)
Regular Holyday
None(Temporary closure and change of business hours during the year-end and New Year's holidays)
Official Site
https://www.ohsho.co.jp/