What a quiet place here is! Only here is enveloped with quite serenity.
I was visiting Bukko-ji Temple at that day. It originated from a hermitage established by Shinran Shonin in Yamashita in the 2nd year of the Kenryaku (1212), and the temple is a member of the Bukko-ji sect of Shinshu Buddhism, and its principal deity is the Amida Nyorai Buddha. I visited there while thinking "How is it like", "Well, temples are same everywhere."
However, I made a complete mistake. Every temple has every characteristic. The temple was creating a unique air which only the temple has.
First, when passing through the gate of Bukko-ji Temple (Mikado-mon).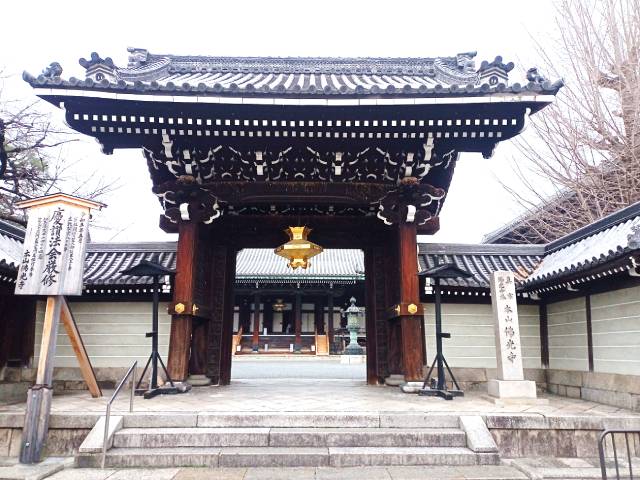 I could see Daishi-Hall (Mikage-Hall) standing in front of me.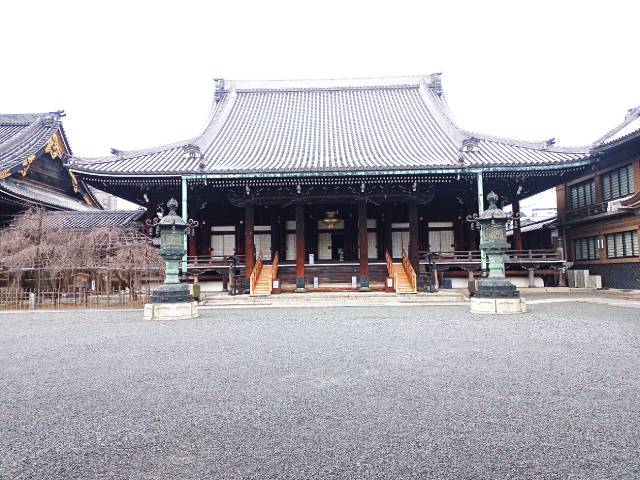 The premises enveloped by great serenity welcome the worshippers.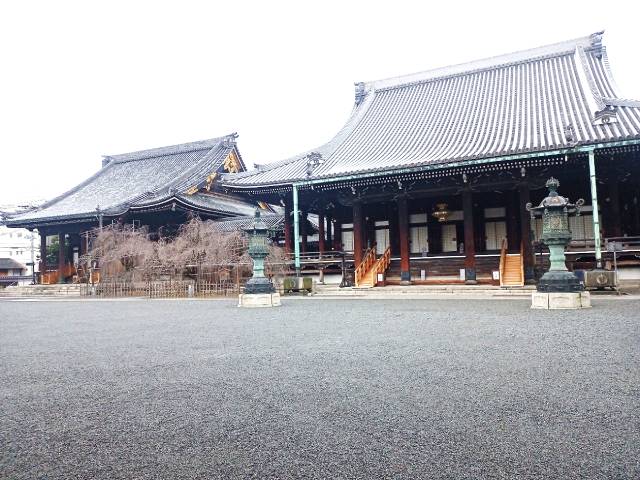 The hall in the foreground (right in the photo) is the Daishi Hall.
The hall in the back (left in the photo) is Amida Hall.
The large garden spreading the front. And two large halls, the Amida Hall, which houses a statue of Amida Nyorai, and the Daishi Hall, which houses a seated statue of Shinran Shonin, stand there majestically, yet quietly.
The da was actually cloudy, but because of it, the entire temple grounds looked more Buddhist in the eyes of the visitors.
Even though it was covered by a cloud of troubles, no, that is why Bukko-ji Temple, the stronghold of the people, stood majestically there. I could see it as such.
After strolling around the temple grounds and experiencing the unique atmosphere that Bukko-ji Temple exudes, I went up to the Daishi-Hall to pay my respect. This hall is free for everyone to worship. The scenery I looked from the hall was so-so good.
adsense2
And after entering inside the Daishi-Hall (Mikage-Hall), there was the seated statue of Shinran Shonin who opened the Jodo Shinshu enshrined.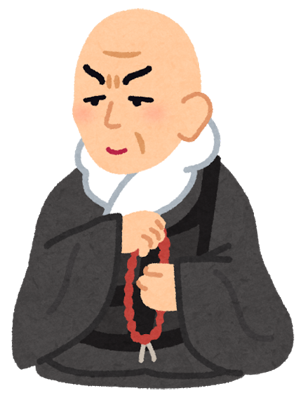 Shinran Shonin
I too have been indebted to Jodo Shinshu for a great deal. It has become the very support of my way of life. It is because of the teaching of Jodo Shinshu that I am able to live peacefully today.
Teaching: There is a teaching to arrive at peace.
Action: Amitabha Buddha's unmeasured encouragement to believe in his teachings.
Trust: Believe in it.
Testimony: Be at ease.
I still live with this teaching in my heart. No, it would be more accurate to say that I am being kept alive.
No matter how much effort we accumulate on our own, we cannot eventually eliminate our own troubles and worries.
I am the one who has the body to live as an eternal fool and evil person who does whatever it takes at the right time and the right place.
That is why we must abandon our own will to do something about it by our own strength alone, and live our lives surrendering ourselves to the unmeasured call of the Buddha.
It is because one's own power is only absolutely powerless.
It is never in your own power to pave the way. Listening to the call of the other force (Amitabha Buddha, which is all that exists in the world, including human beings), we are reminded of the path that we have come to live and are led to a new path.
That's how the path naturally opens up. And so life goes on. It has been and will continue to be.
With these thoughts in mind, I found myself strolling around Bukko-ji Temple and spending time facing the seated statue of Shinran Shonin in the Daishi-Hall (Mikage-Hall).
Bukko-ji Temple
Location: Kyoto City Shimogyo Ward Shinkai town 397
TEL: 075-341-3321
Guide time
9:00-16:00 (Reception closes at 15:00)
No holyday
Public transportation
From Kyoto Station
From Kyoto Municipal Subway Shijo Station No.5 exit, walk 2 minutes.
For Hankyu users
From Hankyu Karasuma Station No. 15 exit, walk 5 minutes.
Fee: Free
Author

じゅうべい(Jubei)
Hello everyone. I am Jubei, an earthling whose energy does not stop today. What I like is playing (manga, movies, music (J-Rock, etc.) and visiting cafes). Thank you for your understanding.