The first part: the truth of "Namu Amida Butu"
"The nenbutu of Namu Amida Butu is also the word of appreciation for you letting me alive."
Gonzo who listened that is thinking about it for a while tilting his head back and his face looked as if he doesn't understand it anyway.
"Gonzo, all people act as a Bodhisattva, who strives to save this world equally transcending the disctinction between the up and down of hierarchy. There is no distinction and discrimination there. Everyone makes each other alive, supporting each other as it is as a Bodhisattva now."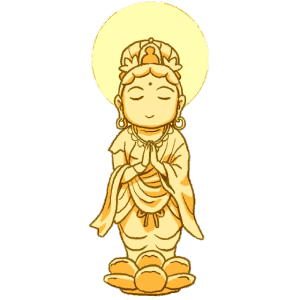 "So, am I one of the Bodhisattvas, too?"
"Yes, Gonzo, you gave me this dried fish as a Bodhisattva of the owner of this Ichikura now. Thanks to this, I could gain the sustenance to live today. You are supporting my life. In addition, that's not all."
I stared at the child girl who grabs the hem of my robe and doesn't let go gently and tell so moving my gaze to Gonzo again.
"You forgave this child girl who once committed a stealing. I am happy for that more than anything. Not only through the merchant works, but also as a person, you saved the life who tries to live now. So, I thank to it from my heart and recite Nenbutu toward you.
adsense2
"But I can't understand it, why is the word of appreciation "Namu Amida Butu"?
"All people act as a Bodhisattva, who strives to save this world equally transcending the distinction between up and down of hierarchy. This teaching is what my master, Amida Buddha and his disciples taught me. Gonzo, thanks to you, I realized that the teaching of Amida Buddhas was true. So, at the same time I thank you who support the lives as a Bodhisattva I thank Amida Buddhas and vow to live enlisting myself to the thought."
Namu means to believe and enlist yourself.
Namu Amida Butu means living entrusting yourself iin the unlimited light of Amida Buddha. That is the true meaning of Amida Buddha Nenbutu.
Continue to "The latter part: I just go on as a Bodhisattva".
Author

じゅうべい(Jubei)
Hello everyone. I am Jubei, an earthling whose energy does not stop today. What I like is playing (manga, movies, music (J-Rock, etc.) and visiting cafes). Thank you for your understanding.