I commute to temple yoga when I have time from several years ago.
The best reason why I who cannot keep everything for long time might be because it is a relaxing atmosphere. My teacher is super veteran in this road for 50 years soon, teach Atuko Wada. She is a generous-hearted and very gentle teacher. She opens yoga classroom in every temple in Kyoto from Monday through Saturday. Although there are many kinds of yoga, we can experience basic Hata yoga that everyone can do including the pregnant mothers and the elderly.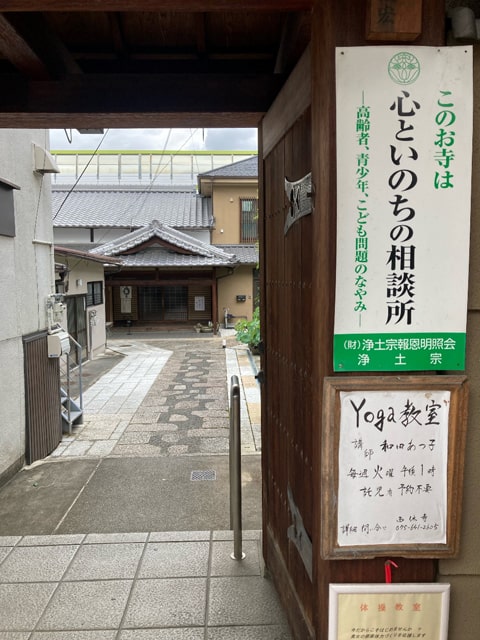 adsense2
This place is Seikyuji temple in front of a local station.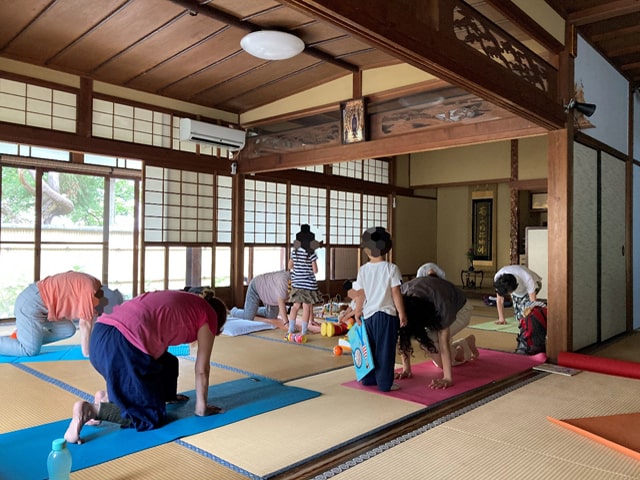 This is how the actual yoga is like. It includes maternity yoga, so mothers can bring their children with them. The classrooms I have ever been to are the temples where she offers yoga classes on Tuesdays, Fridays, and Saturdays, and every classroom has the atmosphere that is easy to take part in for beginners too.
The fee for it is 1300 yen per lesson for monthly fee, and fee for each lesson is 1800 yen which is much higher. (Except for Tuesday lessons, it is 1300 yen per one lesson) but
temple yoga has attractiveness that is not in studio yoga. It is maybe for Japanese that rather than doing yoga in a room in a concrete building, the yoga in natural setting where they conduct yoga on tatami, can look up the ceiling and can look around the premises makes them feel much comfortable. The final purpose of yoga is a meditation that makes the mind empty. Meditation is on the quiet boom recently and people do meditation at the end of each yoga here as well. Of course, I have never made my mind empty. However, doing yoga in a temple has made me feel comfortable.
Although how long will I be able to go to the lessons, I wish I could go to this classroom with a regional community salon as a patron when I am retired with my teacher living up to her 100 years. Well, it'll be probably impossible.
Author

にんにん(Ninnin)
Born and raised in Kyoto, surrounded by mountains.
Hobbies include strolling around the city and enjoying short trips.
He plans to someday live somewhere with a view of the ocean.