About Sewari-tsutsumi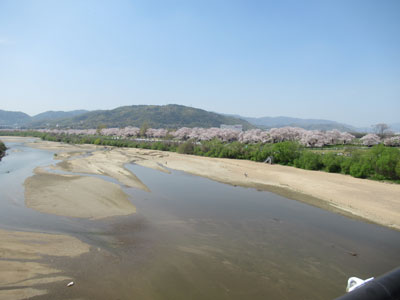 In the Sewari-tsutsumi area, where the Kizu and Uji Rivers converge, approximately 220 cherry trees (Someiyoshino) are planted along a 1.4-km stretch, forming a beautiful cherry blossom tunnel in spring. This cherry blossom tunnel is known as one of the most famous cherry blossom viewing spots.
During the cherry blossom viewing season, the area is crowded with people enjoying the cherry blossoms and picnicking. It is especially crowded on weekends and holidays, so we recommend that you visit early in the day.
It takes about 10 minutes on foot from Keihan Ishimizu Hachimangu Station to reach the Sewari-tsutsumi area, but the cherry blossom tunnel itself is quite long, so it is best to wear comfortable walking shoes.
Also, starting in FY2023, the Cherry Blossom Festival will require a 100 yen operating cooperation fee to be paid at the entrance. This money is used for trash disposal, installation of temporary toilets, etc.
adsense2
Sewari-tsutsumi photos
▼Press any thumbnail, and you can see the photo gallery.
▼Tap any thumbnail, and you can see the photo gallery.
Photographer: Taisuke Yamada
Details
Location
〒614-8312 Sewari-tsutsumi Area, Yodogawa River Park, Yawata City, Kyoto, Japan

Telephone
TEL:06-6994-0006 (Yodogawa River Park Management Center, Osaka Branch)
Entrance fee
100 yen for operational cooperation
Access
Get off at Iwashimizu Hachimangu Station on the Keihan Railway and walk about 10 minutes.
Shuttle bus service from Hankyu Nishiyama-Tennozan Station to the venue from late March to early April (250 yen one-way for adults)
Parking lot
No parking for the public
Site URL
https://www.yodogawa-park.jp/sakurafes/
Recommended places to visit in conjunction with

Ishimizu Hachimangu (Iwashimizu Hachimangu Shrine) is a shrine in Yawata City, Kyoto Prefecture, formerly known as Otokoyama Hachimangu Shrine. It is one of the 22 shrines (Kamishichi-sha) and, together with Ise Jingu Shrine, is one of the two main shrines (sobyo).