About Kuga Shrine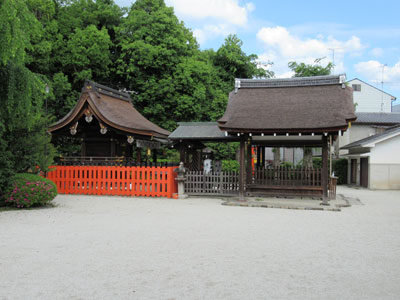 Kuga shrine is a small shrine located in a place a block to the west from the intersection of Omiya Gentaku and go downward. This shrine is currently the setsumatsusha outside the precincts of Kamigamo shrine. It is unknown when the shrine was built but its history was first seen when its Saijin was given under the fifth rank on the January 27 in the first year of Jogan (859).
According to "Youshufushi" its neighborhood is called the wood of Omiya, and many huge trees are flourishing that leave that vestige in the shrine. Also, according to the folklore of Saijin, it has deep relation with Kamo prefecture owner of ancient clans and it is leaving historic environment to make clear of the history of Kyoto well.
This shrine is worshipped as the god of protection of aerial safety and protection of traffic safety.
adsense2
Kuga Shrine photos
▼Press any thumbnail, and you can see the photo gallery.
▼Tap any thumbnail, and you can see the photo gallery.
Photographer: Taisuke Yamada
Details
Location
〒603-841247, Shichiku-Shimotakedono-cho, Kita-ku, Kyoto City, Kyoto Prefecture

Telephone
TEL 075-491-6800
Entrance fee
Free
Access
City Bus 4, 9, 37, Kyoto Bus "Shimo-Kishimachi" alighting, 3 minutes on foot.
City Bus 46 "Shimotakeden-cho" alighting, 1 minute walk.
Parking lot
Parking is allowed on the grounds.
Site URL
https://ja.wikipedia.org/wiki/久我神社_(京都市北区)
Recommended places to visit in conjunction with

Kamigamo Shrine is formally called Kamobetsurai Shrine, and is located in Kamigamo, Kita-ku, Kyoto-city. It is registered as a UNESCO World cultural heritage and attracts attention.

Imamiya Shrine is a shrine in Murasakino, Kita-ku, Kyoto. Also known as the Shrine of marry into a wealthy family. There are two Meibutsu grilled Mochi shop on the doorstep of the shrine's West Gate.

Kenkun Shrine (Takeisaojinja) is a somewhat smaller shrine on the Funaoka mountainside, Kita-ku, Kyoto. It is a shrine that is enshrined Oda Nobunaga. In general, it is called "Kenkunjinja".