Gourmet report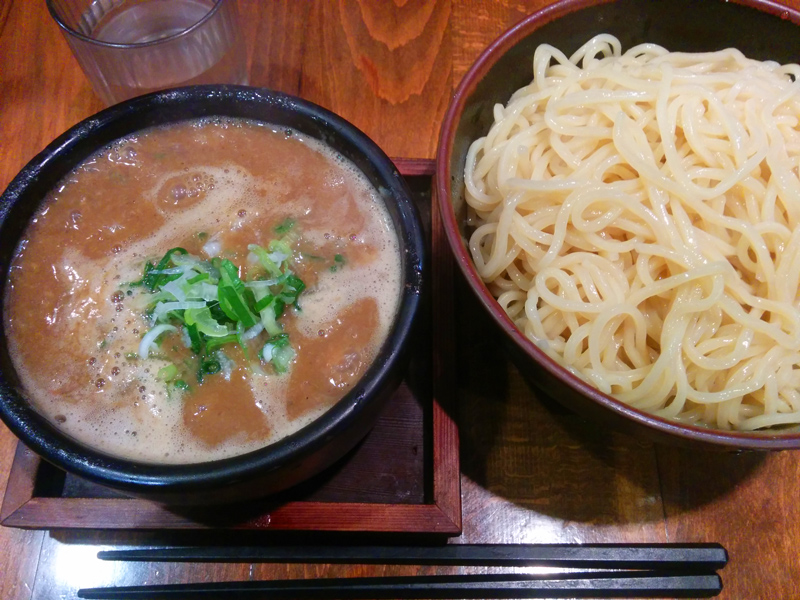 adsense2
I went to a newly made dipping style noodle shop, Ambitious Hana. I thought that it would be crowded so I left my house around 11:45, but it was not so crowded. It is becoming popular in the neighborhood because the waiter here is a handsome man.
At this restaurant, you purchase food tickets first and wait in order. Although I have the weak gastrointestinal tract, I wanted eat the heavy and thick soup ramen at the ramen shop. As usual, I chosen a thick dipping soup ramen here too. You can choose noodles from thick noodles and medium thin noodles. When I came this restaurant before, I chose thick noodles, it was like Sanuki Udon size noodle!! I didn't agree the udon size noodle for ramen. This time, I selected the medium sized noodles. (The large thick dipping soup ramen with medium thin noodle and garlic was ¥850.) The price of the extra noodles are the same that you can chose from regular, medium or large amount. It is a nice price setting for hungry young people. However, the large size is not ordinal amount, so people who do not have confidence in eating a lot may not want to order it. I recommend you to leave it the medium grade.
The dipping soup is really thick and cannot see the figure of the roasted pork. Actually the chunks of the roasted pork are soaked in the bottom of the soup bowl. I soak the chewy noodles in the thick soup and bite the roasted pork chunk…I repeated that so many times. This is very delicious! It seems to be how to eat Tsukemen ramen here that you dilute the thick soup with another soup, placed on the table separately, after eating the noodles.
There are many ramen shops that can be spotted and disappear after a while, but Ambitious Hana seems to be very prosperous and I thought that they would go on for a long time.
 
Revisited July 20, 2018
I sometimes go to ambitious Hana, but this day I was going to eat spicy tsukemen in the summer heat measures. Because of the heat, there were few customers. It was the "spicy soy sauce tsukemen" 840 yen that was immediately guided to the seat and ordered it. I added a boiled egg with a taste with a service ticket. I ordered the warm thin larger noodles and garlic.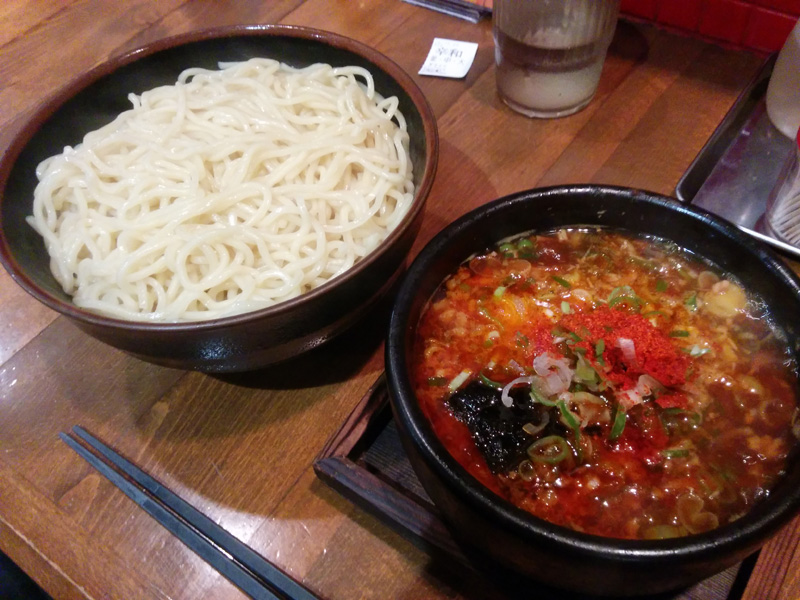 After a while this was carried.
Well, it looks really spicy.
Because the chili powder is put on top of the soup, it is spicy as same as it looks. I ate this spicy food for the first time since the hot-spicy boom. I was sweating as I expected. The warm noodles (warm noodle) were not tightened in cold water and the noodles were stuck together. I thought it was a bit of a failure. As usual, the chunks of roasted pork and menma and boiled eggs with a taste are sunk to the bottom of the soup. The roast pork is soft and delicious.
The noodle of ordered larger portion is the volume as usual, and there are a lot of universities in this vicinity, too and it is Natsuke noodle which seems to be pleased by a young guest. It is a characteristic of this shop that there are quite a lot of female student's customers, too.
It becomes muddy when the soup decreases, and it is good in feeling that the taste revives when dividing it with the bonito which is put on the table.
When you look at the menus, they are also offering mazesoba, so once I want to challenge Mazesoba as well.
I was sweating comfortably and left the shop.
In summer, spicy food is delicious!
 
Revisited August 24, 2018
I came to ambitious Hana again. Because it was Friday night, the front of the shop was overflowing with young customers. I waited for an hour. Waiting for the order was hard.
It was a special mazesoba that I ordered this time. Ordered larger portion of light noodles (400g), was 890 yen with garlic. This noodle comes with a standard white rice. I got a boiled egg with a taste with a discount ticket there. Because I was hungry, I asked a lot of things, but this later caused my regret.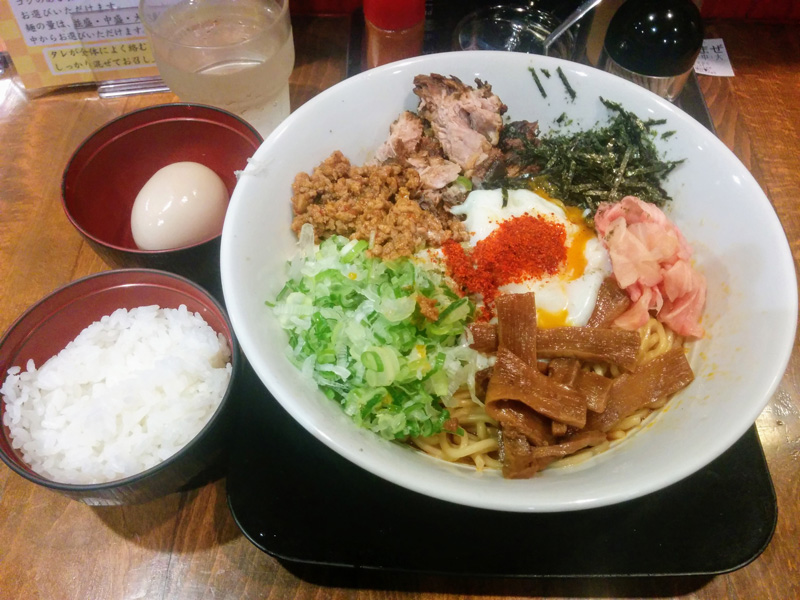 It is the mazesoba in the photograph that has been carried. The ingredients are also colorful with plenty and looks delicious. I try to eat immediately. Because it was Mazesoba, I mixed it from the bottom of a rice bowl and ate it well. The sauce tastes seafood soy source. Slightly soy sauce spicy feeling. Because I did not understand how to eat it, I ate it as it is, but this might be more delicious if I dilute the taste with the split soup and eat it. And, because the pungent taste when Ginger is uttered is strong, it might be better to eat ginger little at a time.
The impression that I ate the noodles 400g. It was delicious, but it is a lot anyway. I was sorry that I could not eat the rice. I should have made the noodles in the middle (300g).
Author's score・・・96points!!
Details
Shop name
Ambitious Hana
Location
〒606-0826
44 Nishihonmachi, Shimogamo, Sakyo-ku, Kyoto-shi, Kyoto

Access
・Get off at Kitaoji Station of Kyoto Municipal Subway and walk 10 minutes to the east.
・Exit at Rakuhoku Koukoumae bus stop and walk west for 3 minutes.
・3 min. walk to the west from Rakuhoku Koukoumae bus stop by Kyoto Bus.
・Coin-operated parking available nearby
Business Hours
11:00~14:30
17:30~23:00
Regular Holyday
Wednesdays, other non-scheduled holidays
Twitter
https://twitter.com/ambflower
Facebook
https://www.facebook.com/ambitioushana