Oh, how comfortable! Today is a superb day, too, baby. There is a refreshing "new wind" blowing in the sky over Kyoto City today. And I am here now.
Now watch this!
New!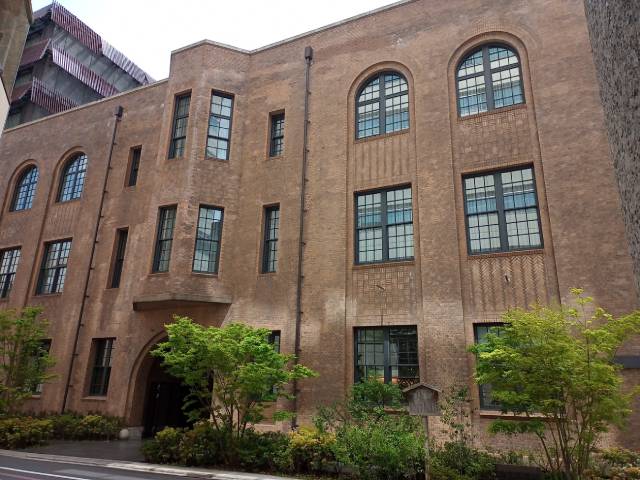 Wind!!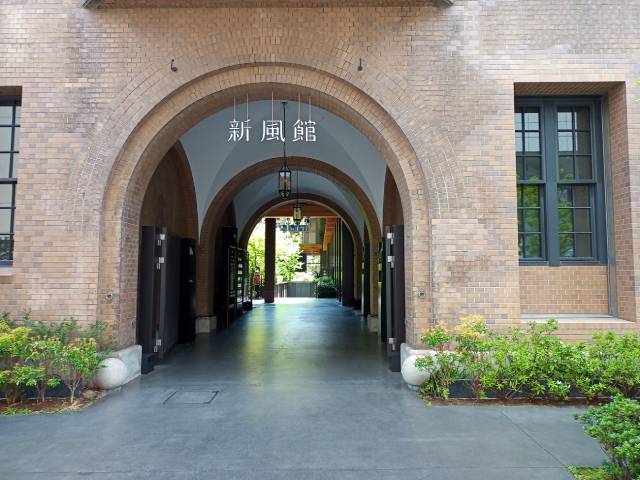 Building!!!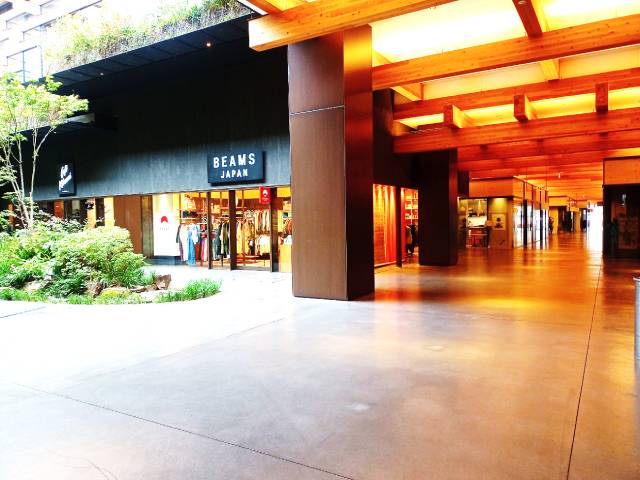 Shinpukan!!
…It's decided.
Yes, I am now at Shinpukan, located near the Karasuma-Oike subway station. Shinpukan, it is a complex facility consisting of a hotel, stores, and a movie theater based on the concept of "fusion of tradition and innovation."
It's not just about utilizing a Taisho era telephone office building. The building is carrying on Kyoto's history and culture in various ways and connecting it to the future, such as by reproducing Muromachi Period garden masonry excavated during construction, and interior design that applies traditional Kyoto crafts.
The building is composed of a total of 20 commercial zones, including the "Uplink Kyoto" movie theater on the basement floor and other new businesses lined up around a passage (street garden) and courtyard, with "Ace Hotel Kyoto" centered which will land in Japan for the first time, making it a center for interaction between travelers from around the world and local residents and bringing even more liveliness to the city, and continues to breathe new life into the Kyoto area.
Tradition and innovation. It's also evident in the spatial composition. Behold.
adsense2
Natural landscapes are inserted into the center of the city. (Garden)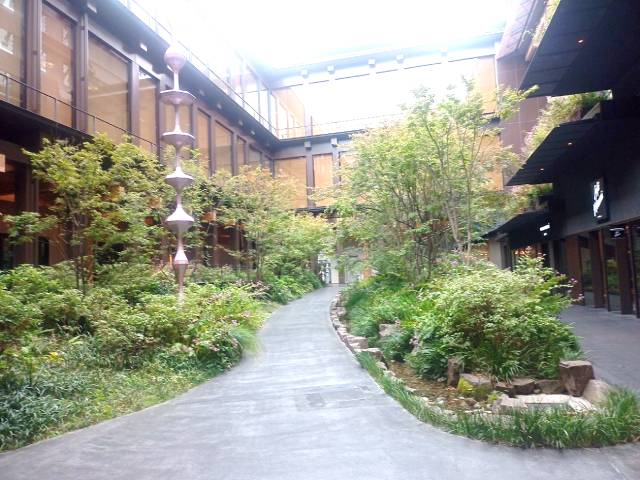 The courtyard, passage garden, light garden (atrium), and rooftop garden have four different characteristics, allowing visitors to experience the richness of nature throughout the entire building. In the rooftop garden, the waterfall masonry, which is a valuable remnant from the Muromachi period, has been restored in an attempt to carry on the history of this place.
The garden artwork "Ether (Octagon)" is a sculpture which gradually 3D modeled the drops of water falling to the ground and spreading out in stages, then flipped upside down and randomly stacked on top of each other. Along with symbolizing the eternal nature of life force, the entire piece is composed of polyhedral, and the light shifts from surface to surface as the natural light changes.
Thus, Shinpukan, based on the concept of combining tradition and innovation, is crowded with many people every day.
By the way, the food is also delicious. For example, I had such a delicious dish at such a restaurant.
DIG THE LINE BOTTLE & BAR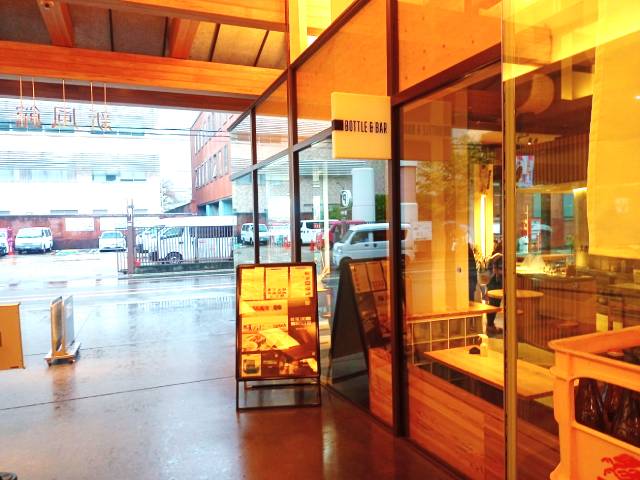 Dig out story (Spotlight on craft work)
Dig up community (Fostering a community)
Dig the line (Connecting to the world)
Based on these three concepts, craft beers imported from Europe (France, Sweden, Denmark, England, the Netherlands, and Belgium), which are being launched for the first time in Japan, will be served at the restaurant and the attached bottle store. The restaurant also offers creative cuisine paired with craft beer and sake, which can be enjoyed casually at the terrace, stand, counter, sofa, and a variety of other seating options.
Looking out from inside the store…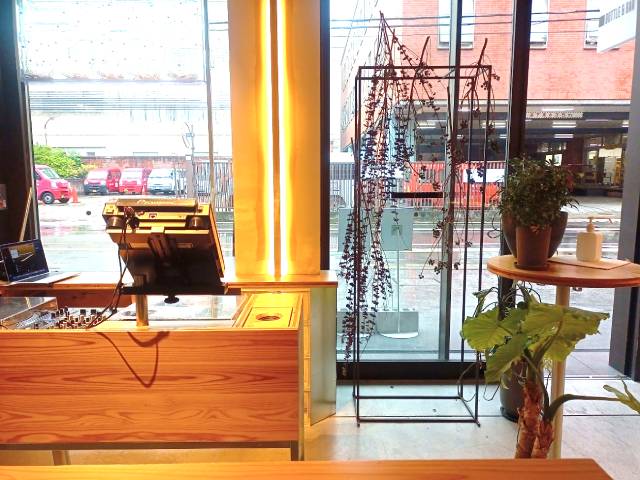 I will eat the delicious dishes. Yeah, this is going to be good. There are some god-awful MZ dishes in the world, but this one is delicious! What? The meaning of MZ? It is not delicious.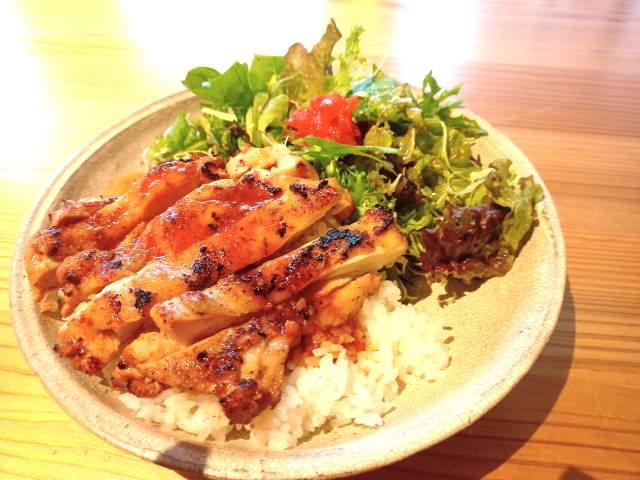 Frigid Chicken Plate – Hawaiian specialty barbecue chicken (1000 yen)
There are also many other commercial facilities, including a wide variety of gourmet & sweet stores and fashion & lifestyle stores.
In addition, "Uplink Kyoto", a movie theater showing many small but appealing films, is also located on the basement floor (I personally recommend this theater in particular).
Shinpukan, a complex facility with the concept of "tradition and innovation". Why not come when you come near there?
Oh, the new winds again…
Shinpukan
〒604-8172
Kyoto City Nakagyo Ward Karasuma Dori Anekoji Kudaru Bano town 586-2
Business hours:
[SHOPS] 11:00〜20:00
[RESTAURANT] 8:00〜24:00
※It varies from stores and stores.
DIG THE LINE BOTTLE & BAR (the eatery I introduced in the article)
Business hours:
11:00~22:00
Telephone number:
075-254-8650
Seat capacity:
Sofa: 9 seats, counter: 9 seats, table: 8 seats, terrace: 20 seats, stand: (about 20 seats)
Public transportation:
For train users: Directly connected to the south ticket gate of Karasuma-Oike Station on the Kyoto Municipal Subway Line.
Introduction of parking spaces for bicycles
Bicycle parking is available on the left side of the entrance on the Higashinotoin Dori side.
Available number:
146 Bicycles and 3 motorbikes
Fees: Free up to 2 hours after parking. After 2 hours, fees are added followingly.
Bicycles: Upper rack: 100 yen 24 hours each
Lower rack: 150 yen up to 6 hours, and 50 yen is added 6 hours each after that.
Motorbikes:
250 yen up to 6 hours, and 50 yen is added 6 hours each after that.
We don't offer bicycle parking discounts based on purchases.
Business hours: 24 hours (No holiday)
Not available on the facility inspection day.
Author

じゅうべい(Jubei)
Hello everyone. I am Jubei, an earthling whose energy does not stop today. What I like is playing (manga, movies, music (J-Rock, etc.) and visiting cafes). Thank you for your understanding.