Keihan Railway connecting Kyoto and Shiga
Posted date:2023-01-27
Author:海野さざなみ(Umino Sazanami) Transrator:ポンタ(Ponta)
Category:
Talk about Kyoto
Thank you for your hard work!
This is Umino.
Sorry for the delay, but Happy New Year!
I look forward to working with you again this year.
How did you spend the year-end and New Year holidays?
Umino was working until the 30th, and from there until the 4th, the first day of work, I spent it almost like a normal holiday (flatly speaking, lazily…).
I didn't go on a New Year's visit and stayed home all the time (simply put, lazily…).
I have completely stopped going to Hatumode, in the last few years due to my laziness, but I used to always go there with my family.
Most of the time I went to the shrine closest to my house, but as I wrote in a previous blog ("Memories of Visiting Kitano Tenmangu Shrine"), I sometimes went as far as Kyoto to pay my respects.
I took the train to Kyoto on that occasion, but JR is the only line to Kyoto from my hometown.
Shiga is almost entirely dependent on JR, but only Out City, the capital of Shiga Prefecture, has another line that goes to Kyoto.
That is "Keihan trains"!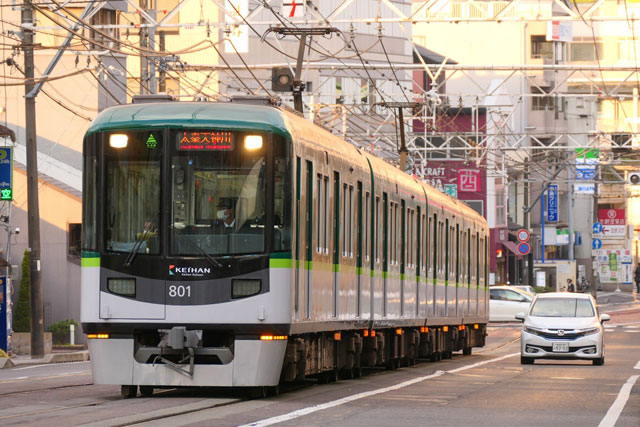 adsense2
The line connecting Kyoto and Shiga is called the "Kyotu Line" and connects Biwako Hamaotu in Shiga to Goryo in Kyoto.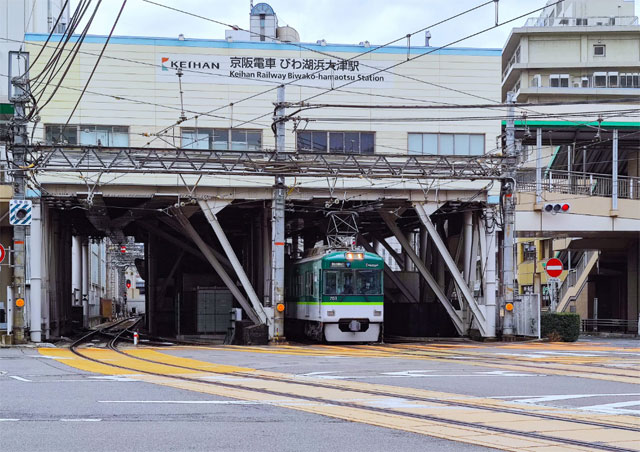 Biwako Hamaotu Station
In addition, from Goryo, there is a direct connection with the Kyoto Municipal Subway Tozai Line, which runs to "Uzumasa Tenjingawa", allowing one to go to "Karasuma Oike" or "Nijo" with only one train from Biwako Hamaotu.
However, it is inferior to the JR line in all aspects, including fares, travel time, and the number of services, so unless you live along the Keizu line, you are unlikely to use it on a daily basis.
In fact, I only remember using the Keishin Line once or so.
There is another Keihan train line in Shiga, the Ishiyama-Sakamoto Line, which I have used several times (sweat).
But in fact, the Keishin Line has a unique feature in Japan.
That means it has three faces: tram, mountain railway, and subway!
It runs as a tram for a while after leaving Biwako Hamaotu, as a mountain railway with one of the highest gradients and curves in Japan, and as a subway from Goryo, going underground at once.(It is also known as a "theater route" because it runs through diverse sections.)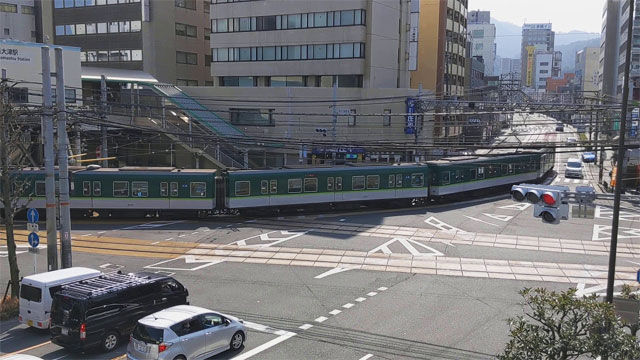 Tram with a total length of 66 meters (laughs)
Therefore, there are many unusual elements, such as running in a four-car formation even though it is a streetcar, and the car, the 800 Series, has numerous technologies used in the body.
It is interesting just to look at it from the outside, and if you actually get on the train, I think you will enjoy it a lot as the view from the window changes one after another♪
So why not take a ride on a Keihan Keishin Line train once, not as a means of transportation but as one of the attractions?
Incidentally, the fare between Biwako Hamaotu and Goryo is 240 yen one-way, so if you consider it as an attraction, it may not be that expensive!
Thank you for reading this article to the end. Well, see you next time!
Author

海野さざなみ(Umino Sazanami)
A "Awamijin" (Shiga Prefecture resident) suddenly appeared on the "Kyoto People's Blog.
He is a man in his 30s with a shaved head and glasses. His hobbies include reading, creative writing (novels), and cooking.