Oh, what a wonderful day it is today too!
Come on, East Main Gate, please welcome me with a sunny welcome.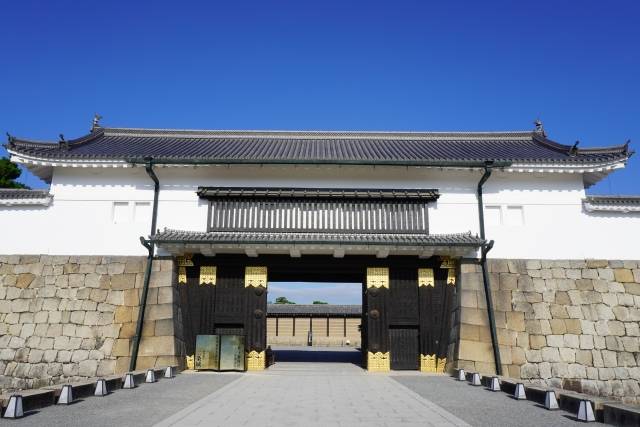 A perfect day for a sunny Kyoto holiday. I was shivering from my heart since I came here. Finally, the time came. Finally, I was able to come to Nijo Castle, the castle that Ieyasu Tokugawa, the first shogun of the Edo Shogunate built in Keicho 8 (1603) to protect the Kyoto Imperial Palace, where the emperor resided, and to provide lodging for the Shogun when he traveled to Kyoto. Come on, my new adventure will start from now on. Let's get inside right away. Let's go!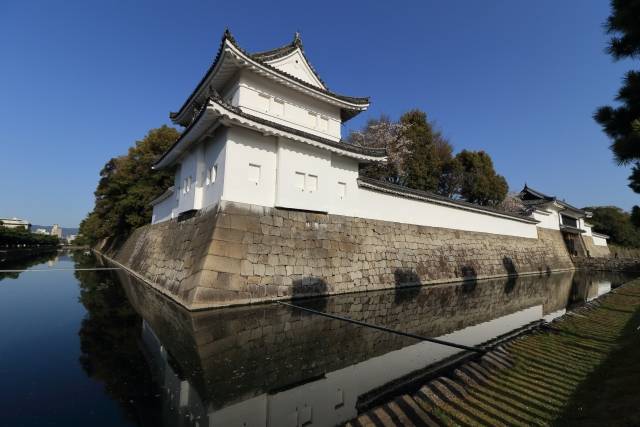 Oh, wonderful! Behold the power of this Karamon gate.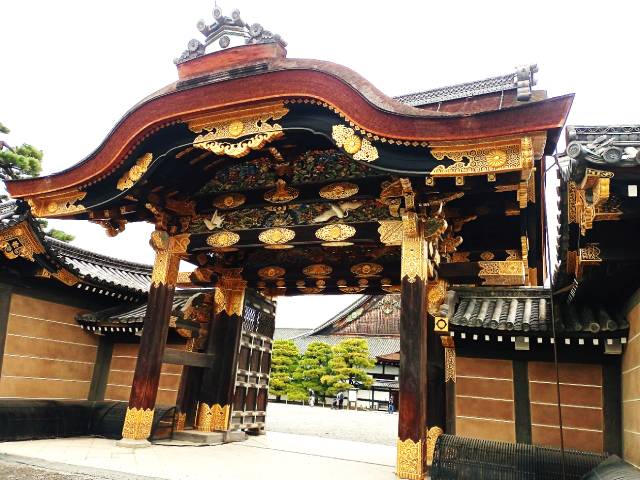 The four-legged gate gabled with a cypress bark roof. And the karahafu (Chinese gate) attached to the front and rear of the roof. This gate, the main entrance to Ninomaru Palace, is adorned with gorgeous and exquisite carvings, including "pine, bamboo, plum, and cranes" signifying longevity and "arabesque lions" protecting the sanctuary. What a wonderful power!
The Ninomaru Palace is just beyond the gate.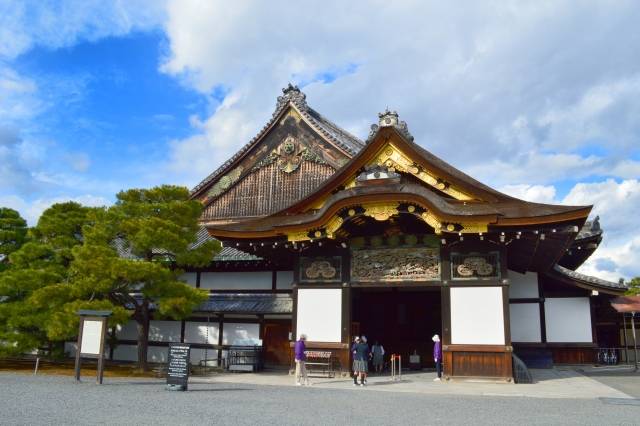 Here, there is magnificently decorated with representative "Pine Hawk", tigers and leopards that show the dignity of the Shogun, and barrier paintings (reproductions) of the Kano school depicting cherry blossoms and seasonal flowers.
During the reign of the third shogun, Iemitu, the castle was extensively renovated for Emperor Gosui's excursions (emperor's outings.) At that time, many of Tanyu Kano's paintings were added to the Ninomaru Palace.
The extensive renovations were intended to show the world that the rule of the Edo Shogunate was stable by welcoming the emperor to the magnificent castle.
Yes, in the Ninomaru Palace, visitors can see a solemn reenactment of the October 14, 1867 return of power to the Imperial Court by the 15th Tokugawa shogun, Yoshinobu Tokugawa, using dolls. It is worth seeing.
Nijo Castle is very spacious consisted of Ninomaru Palace and Honmaru Palace to the west which are closed to the public as of November 2022 due to repairs. The repairs are slated to finish in 2023. So, there are many points to see there.
adsense2
Ninomaru Garden, a shoin-style garden with Horai Island in the center of the pond and crane and turtle islands on either side.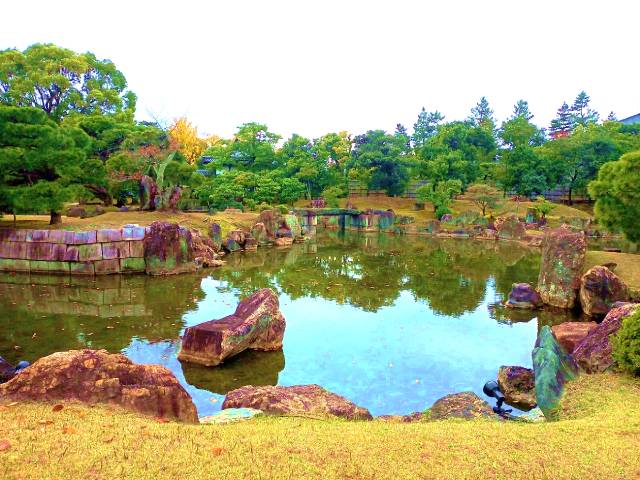 Seiryuen, the garden of a blend of Japanese and Western styles, consisting of a Japanese-style garden with Kountei (pavilion) and a tea ceremony room, and a Western-style Garden with a lawn.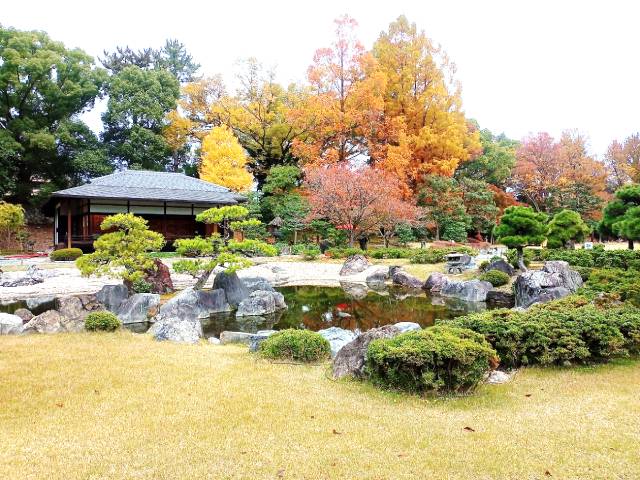 In addition, there are such huge ginkgo trees in Nijo Castle and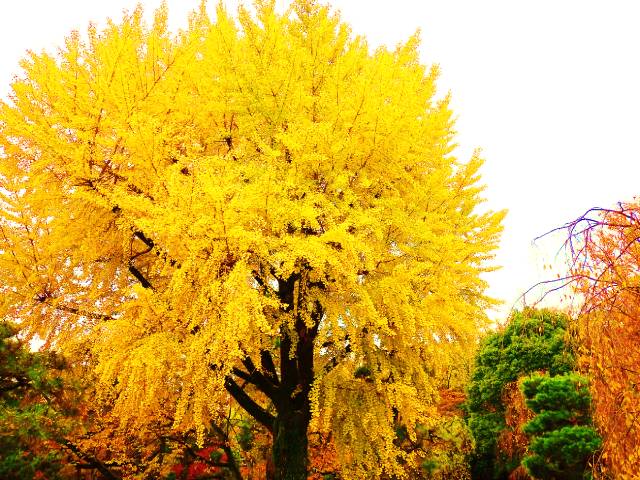 Such beautiful autumn leaves there.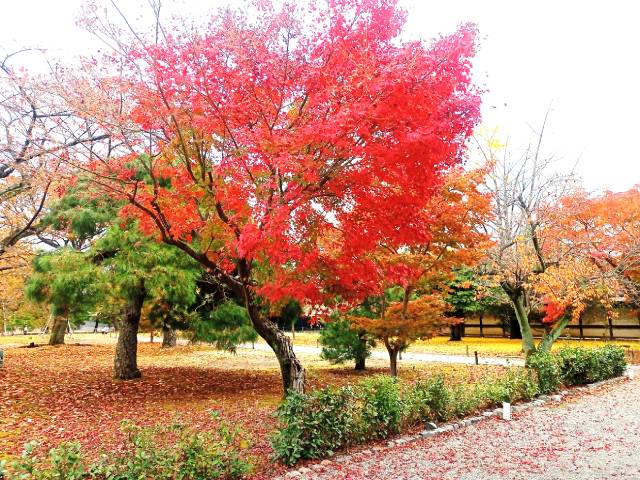 So it is a perfect place for an autumn stroll, yes?
There are also the ruins of the castle keep and the Nijo Castle Mural Exhibition and Collection Museum, and you could probably spend a whole day just walking around Nijo Castle. Thanks to that, I too have become a complete stick in the mud. No, I've become too much! But this is very comfortable.
A grand stroll around the vast Nijo Castle. As a fitting finale, I took a break from my limp legs at a free rest stop and ate a bowl of golden cream, the most colorful ice cream I could find. That is this!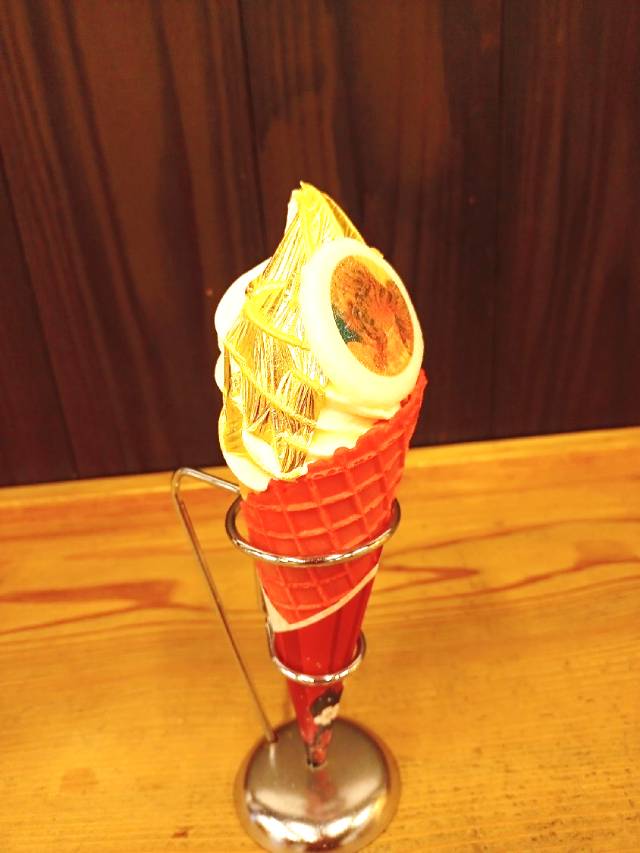 Golden soft cream (half) 1000 yen
My stroll around Nijo Castle came to a close after savoring the soft-serve ice cream, which can only be found at Nijo Castle. (Incidentally, if you pay about 2,000 yen, you could have even more tremendous golden soft cream. For those interested in it, challenge it!)
Nijo Castle
〒604-8301 Kyoto City Ukyo Ward Nijo Street Horikawa Nishi hairu Nijo Castle town 541
TEL: 075-841-0096 FAX 075-802-6181
Opening hours: 8:45 a.m. to 4:00 p.m. (castle closes at 5:00 p.m.)
Ninomaru Goten open for viewing from 8:45 a.m. to 4:10 p.m.
Holidays: From December 29 through December 31
Days when Ninomaru Palace is closed for viewing: On Tuesdays of January, July, August, and December, from December 26 through 28, January 1 through 3.
※If the day in question is a holiday, visitors may view the Ninomaru Palace, but the Ninomaru Palace will be closed the following day.
Admission fees:
Please access the following URL for detailed information.
URL: https://nijo-jocastle.city.kyoto.lg.jp/guide/annai/
Please access the following URL for detailed information about public transportation and parking.
URL:https://nijo-jocastle.city.kyoto.lg.jp/access/
Author

じゅうべい(Jubei)
Hello everyone. I am Jubei, an earthling whose energy does not stop today. What I like is playing (manga, movies, music (J-Rock, etc.) and visiting cafes). Thank you for your understanding.