Machiya Cafe Urinsha
Posted date:2021-08-12
Author:じゅうべい(Jubei) Transrator:ポンタ(Ponta)
Category:
Kyoto sweets
,
Kyoto Cafe
Well, today is the time I'll go to there.
I decided to go to that place absolutely today!
I was so enthusiastic today unusually. Yes, I have to go to that place today and eat delicious foods to my heart's content. The place I have long been curious about but I have not been to for a long time. I who take steps to there during the hot day. And the time finally came.
Fight, you can do it, if it is you…Well!Gara Gara Gara Gara.
I made you wait! Urinsha.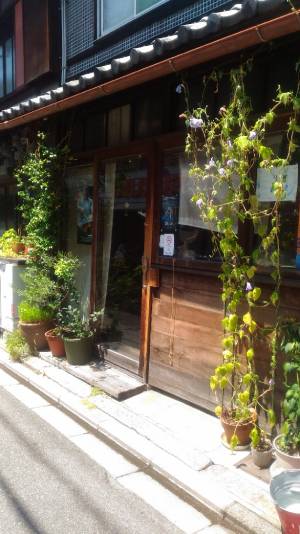 The appearance of Urinsha.
It is Urinsha, a tradesman's house café located in Kyoto city nijo district. Because it was built by renovating a tradesman's house in Kyoto, the appearance gives the feeling as it is a tradesman's house itself. The shop is made by woods and the lighting is fewer, which leaves the atmosphere of a tradesman's house as it is. It is creating very comfortable space in conjunction with fashionable BGM. There are counter seats near the entrance and table seats for two people near the wall in the middle, and big table seats in the back.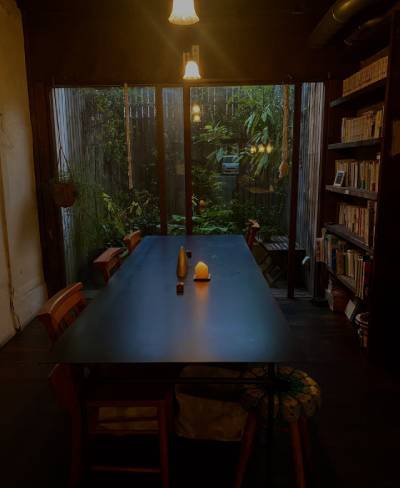 This picture was transferred from official twitter.
People can see the garden over the glass window from big table seats in the back, and can enjoy the scenery slowly and quietly while illuminated by a little dark lighting.How wonderful!!
Lucky, there are few customers. It is a chance. Well, let's go.
Let's eat today's lunch!
Then, my lunch competition started.
Wow! There are many menus. It is hard to choose one from these, my god. Yeah, it's troublesome! (lie)
Which should I choose ~ it is what my god tells♪
Well, I chose this!!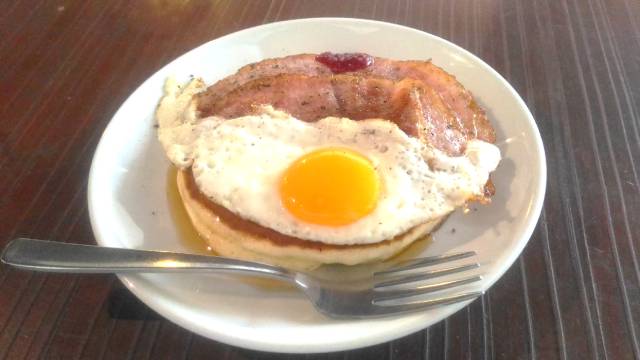 Bacon egg and hot cake (880 yen)
Let me say honestly. Yeah, I ate such a delicious food for the first time! It is different from ordinary hot cakes, isn't it? Yes. What? What is the difference? It is absolutely that the great sweetness of hot cake and pungency of bacon created a delicate harmony on my tongue and in my mouth. I was surprised with this.
As soon as the sweetness of hot cake spread out in my mouth and the next moment salty bacon spread out in my mouth. The sweetness and the pungency, mutually exclusive two tastes combined one, and very sweet and salty hot cake spread out in my mouth. Yeah, it's superb. Yes, the combination with fried egg is also super very good. I was moved as the day came when I who have always thought that fried egg, I wanted to eat your eye, could eat fried egg's yellow and cute eye with sweet hot cake. ( ノД`)
Bacon egg and hot cake. This is just most delicious hot cake suitable for lunch. I who had the hot cake deliciously, found menu I was more curious about.
adsense2
DominikabaraonaAA
It is what is offered as one of the coffee menus of today. The coffee passion in me flared up by the coffee name I have not ever heard.
Well, let's drink this coffee as a post-meal finale. Hey, come on.
DominikabaraonaAA(550 yen)
This coffee is also delicious. It makes me relaxed very much. Because sweet flavor and fresh after-taste are spreading in my mouth. In addition, adding the fresh (white liquid milk we often see) adds mellowness here and, further adding the sugar (sweet and delicious white grains) creates very good taste with fresh after-taste spreading along with moderate sweetness and mellowness. It is the moment when I think coffee is delicious again. By the way, AA means it is used the best-quality ingredients. As expected, the shop sticks to the quality.
Well, I could spend great time by coming Urinsha today. Thanks for the superb time.
Everyone, I recommend you to come here♪
The shop's name: Urinsha
Reservation and inquiry:
075-822-6281
Reservation is possible.
Location:
Kyoto prefecture Kyoto city Nakagyo district Nishinokyo Ogura town 22-12
Official account:
https://www.instagram.com/uurinsha/
Access by public transportation:
3-minute walk from JR or subway Nijo station. 196 m from NIjo station.
Opening hours:
11:00~18:00
Open on Sundays
Regular holidays:
Mondays and Tuesdays
Due to expansion of new corona virus and so on, there are some cases where the opening hours and regular holidays differ from the stipulation above. Please make sure to contact the shop beforehand when you come to the shop.
Seats and facility:
There is no private room. Counter seats are available.
About smoking:
Smoking is allowed in all seats.
A law regarding the measures against passive smoking (revised health promotion law) has been put into effect since April 1 in 2020 and there are some cases where it is different from the updated information, so please make sure to contact the shop become you come.
There is no parking lot.
Author

じゅうべい(Jubei)
Hello everyone. I am Jubei, an earthling whose energy does not stop today. What I like is playing (manga, movies, music (J-Rock, etc.) and visiting cafes). Thank you for your understanding.