Karafuneya Coffee Shop Sanjo
Posted date:2022-12-22
Author:じゅうべい(Jubei) Transrator:ポンタ(Ponta)
Category:
Kyoto sweets
,
Kyoto Cafe
Kawaramachi Sanjo, a downtown district at the intersection of Sanjo Dori and Kawaramachi Dori. The Karafuneya Coffee Shop is located just past the Sanjo shopping street from Kyoto City Hall Mae Subway Station or just across the Sanjo Ohashi Bridge from Sanjo Keihan Subway Station on Kawaramachi Dori.
It is a famous shop which have been loved in Kyoto as a community-based store which has always valued the spirit of hospitality since its establishment in 1972.
This is the café you should first visit when you come to Kyoto!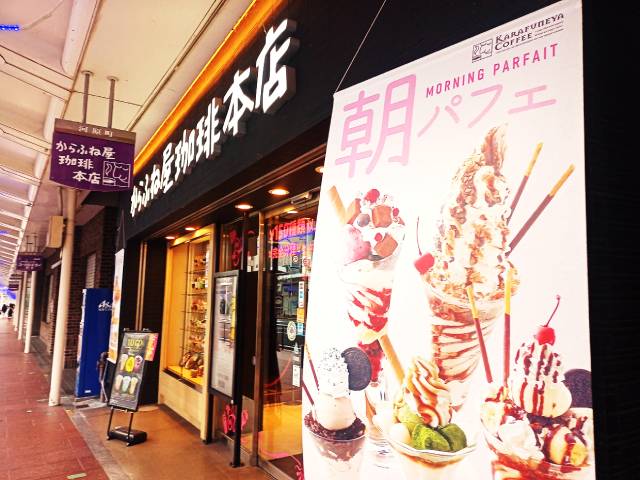 Look! This is a dreamlike space where it is irresistible for parfait lovers as they can enjoy a wide variety of parfaits from morning.
Then I looked at the show window, and it was amazing.
There are so many different kinds. In addition to parfaits, you can enjoy delicious dishes, too. By the way, it offers morning menus in the morning hours. And when it passes 11:30, you can enjoy various plate menus as lunch menus.
Inside the shop is separated in 1st floor and 2nd floor and there are many seats. Since there are seat for one person, so it is no problem if you come alone. The customers are unbiased, with a variety of customers, young and old, male and female, coming to eat.
adsense2
This is what I ordered in such a shop this time.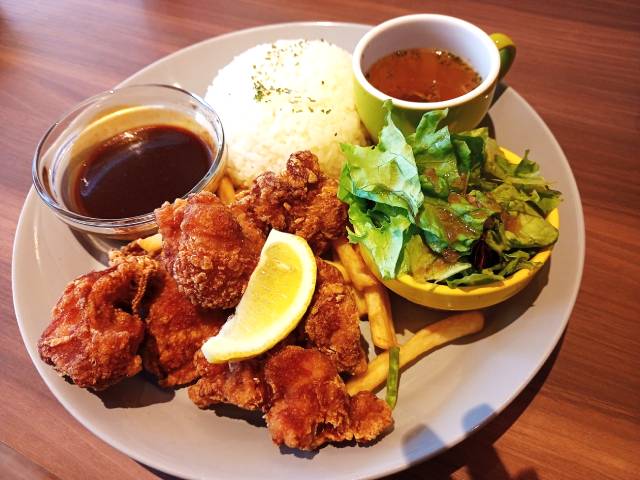 Fried chicken plate (980 yen)
Rice, vegetables, and fried chicken make for a well-balanced, presentable, and even more hearty plate. This is truly the perfect lunchtime menu! I ate it with great deliciousness. After the plate, I had this parfait as a dessert.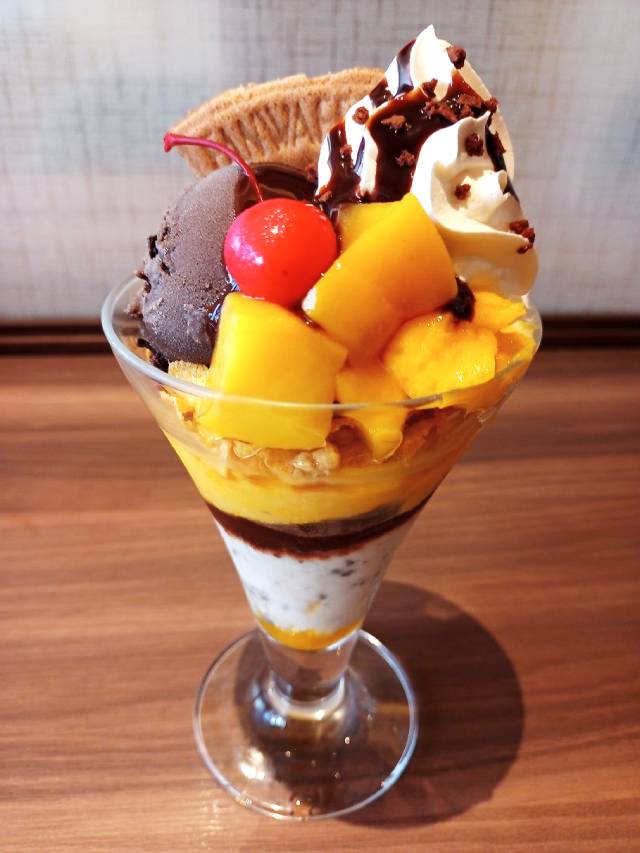 Chocolate-Mango Parfait (960 yen)
The light mango fruit and chocolate went very well together, and it was a great dessert after eating something Karaage-type.
There are so many other types of parfaits here that you can get lost in the variety.
There are a whopping 140 varieties. That's an amazing number.
Karafuneya Coffee Shop Sanjo Main Store, the shop where you can enjoy delicious meals and even more delicious parfait sweets. I recommend you try it.
Karafuneya Coffee Shop Sanjo Main Store
Location:
〒604-8031 Kyoto Prefecture Kyoto City Nakagyo ward Kawaramachi Dori Sanjo Kudaru Ooguro town 39
TEL: 075-254-8774
Twitter: https://twitter.com/karafune_honten
Access:
The nearest station
5-minute walk from in front of Kyoto City Hall Station (West and East Line)
5-minute walk from Keihan Sanjo Station (Keihan Line)
Opening hours: 9:00~23:00
※Last order: 22:00
Regular holidays: No holiday
Seats capacity: 100 seats
No parking spaces
Author

じゅうべい(Jubei)
Hello everyone. I am Jubei, an earthling whose energy does not stop today. What I like is playing (manga, movies, music (J-Rock, etc.) and visiting cafes). Thank you for your understanding.